I just want to make sure that this is the preferred methodology…as the Honeybee Glazing Parameter does not have a NORTH geometry node (like the analysis components have), I've been doing a "list shift" on the glazing parameter input values to assure that the glazing WWR values align with the custom north orientations that an analysis might utilize.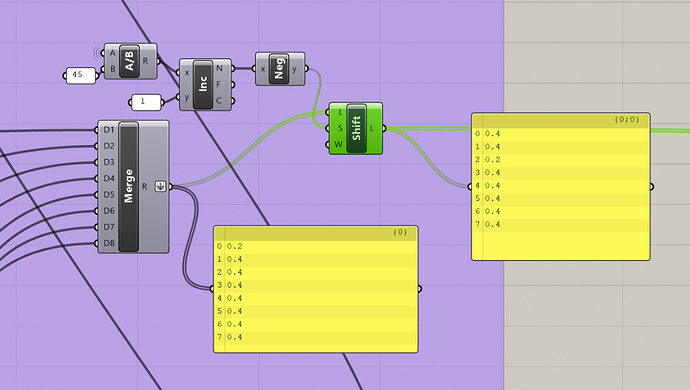 correct me if I'm wrong, but in honeybee, when we tell what orientation has what WWR, the geometry doesn't know the North Orientation yet that an analysis component might use, so if we over-ride the north orientation, the two will conflict…example…you say you want North WWR to be 100% but then rotate the building 90 degrees, it will be off…
I added this list shift to my scripts when importing the list of WWR into the glazing component…hopefully this makes sense…the "A" input in the division component is the North orientation override in degrees…in this example I did a 90 deg rotation so it's shifting the North WWR of 20% by 2 spots…so Honeybee glazing thinks it's adding it to the East façade, but really it's the north because the building analysis is rotated only at the analysis components.
Is this the best way to do this or is there another preferred methodology?
@chris, any insight from your perspective?