Hey guys,
I tried to add multiple windows on one surface with .add_fenestration_surface. It should work since there is an example in API doc here:
r = Room()
r.add_fenestration_surface('back', 2, 2, .7)
> r.add_fenestration_surface('right', 4, 1.5, .5)
> r.add_fenestration_surface('right', 4, 0.5, 2.2)
with open('c:/ladybug/room.rad', 'wb') as outf:
outf.write(r.to_rad_string(include_materials=True))
But it doesn't cut through the wall properly. As you see in the picture: the wall surface has overlap with the window.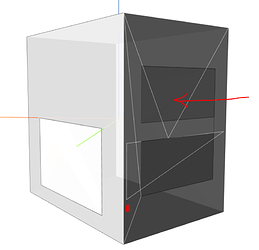 I was wondering if it is possible to get all the vertices and faces from honeybee.room module.
As you see I tried .vertices and it doesn't give me all the points. .geometry is also throwing an error ""geometry" property can only be used in [+] libraries"



I want to export this room as obj or dxf format.
Any hint or suggestion will be really appreciated.
Regards,
Fazel