Dear all,
I am still quite new to Honeybee[+] 0.0.04, and I am running an annual daylight simulation with BSDF material. However I was a bit confused about the settings and annual results reading. I listed my questions as below (some may be very basic), and my simplified gh file screenshot as below. Thanks for your patience and help in advance!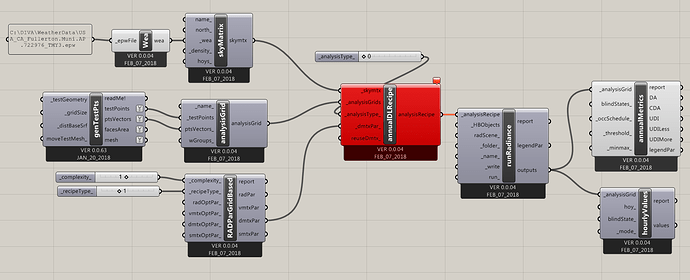 Annual recipe: my understanding is in Honeybee[+], the only annual recipe is annualDLRecipe, is it correct?

For annualDLRecipe, the skymtx comes from skyMatrix, in case of true north and Tregenza skywith 8760 hour, the only input needed for skyMatrix is wea, is it correct?

For dmtxPar, if comes from RADParGridBased, Complexity defines how accurate the result would be (?), and what should the recipeType be here? Will this receipeType input determine what method annual run uses?

If it's yes to question 3, in case of using 3-phase or 5-phase method for annual run, the wGroups input on analysisGrid will need to be connected. In this case, we have a continuous curved glass along the floor perimeter, with 1 layer of curtain is behind the glass, so it cannot meet "Window surfaces in a group should have the same normal direction". Does it mean we cannot run 3-phase or 5-phase? If so, shall the receipeType on RADParGridBased be set to Point-In-Time or Daylight Coefficient?

For 1 layer of glass and 1 layer of curtain, should they both be Window Group? Or can they just be HBSurfaces with glass or BSDF material?

Read the result: for annual run my understanding is the Outputs can be connected with both annualMetrics and hourlyValues to read the results, is it correct? However the annual Metrics doesn't work unless with blindStates input. In case on no blind schedule (shade always down), shall I input a full 1 list?

Is there a way to read the results from daylight folder just like in Honeybee?

In case of further data process, I use to open ILL file for annual analysis and process the data in excel. But in Honeybee[+], there are multiple ILL files in gridbased_annual result folder. Is the total…scene…default.ill the result file I should be reading?
Thanks for reading this post and any feedback will be much appreciated!
Best,
Xiufang