Hi all,
I've only just been dipping my toes into the new 1.0 components, but so far looks amazing as always.
I have specific question related to the new 'properties' object for room, models, etc… I wonder if someone can help explain?
---
If I would like to add some 'custom' properties / objects to room, face or model objects, am I right that the 'properties' object is the appropriate place to host these new custom objects? In that way they will sit alongside the 'energy' and 'radiance' objects already included, correct? (it seems from the reference documents here that this would be the recommended practice?)
---
Or would it be more appropriate to use the 'user_data' key back up a level on the room/face/model object itself? Is there a required / recommended place to host new user created objects so that they won't interfere with the proper LB/HB functioning?
I was just noodling around testing to see if I could host some new custom objs on the 'room.properties', and while it seems to work at first, it appears that when I pass the modified rooms through another component, my new objects seem to get stripped away for some reason?
Example:
First, add a new custom object onto the room.properties object: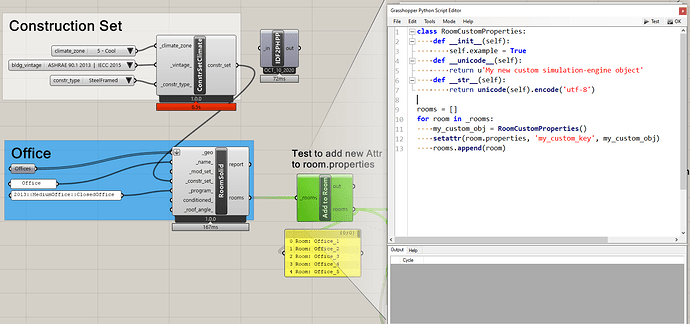 At first, it seems to stick: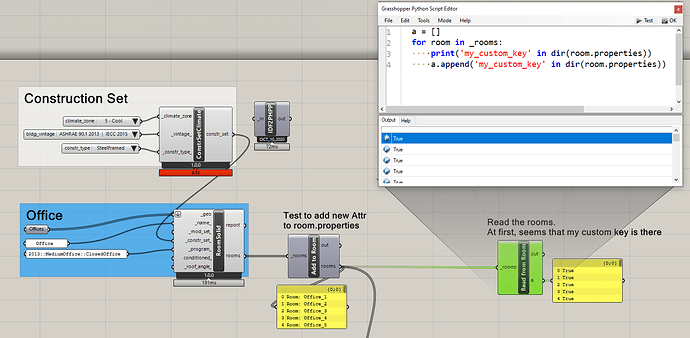 But, once I pass the rooms through any other component, they seem to get dropped: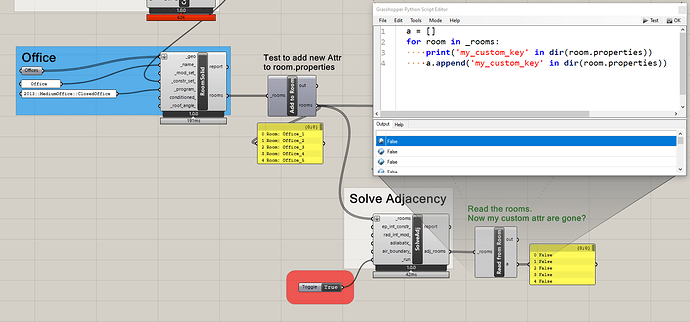 ---
so I wonder:
a) Am I correct in thinking that I can host my own custom objects alongside the 'energy' and 'radiance' objs on the room.properties?
b) Am I right that using the normal setattr() is the best way to add any new custom objs to the .properties obj? Is there a built-in setter / add method for this (I didn't see anything in there, but might have missed it?)
c) Do you know why my custom obj / key might be getting dropped from the .properties object here?
---
I've attached my sample file here. Thanks for any input! Love the new 1.0 so far - looking forward to diving in deeper.
best,
-Ed
example.gh (169.7 KB)