Hi, I got 16 errors when trying to run the Run Energy Simulation component.
I installed Ladybug V1.3, OpenStudio V3.0, EnergyPlus V9.3. Rhinoceros 7.
I have to graduate, I'm desperate. Someone can help me, please?
I got these errors: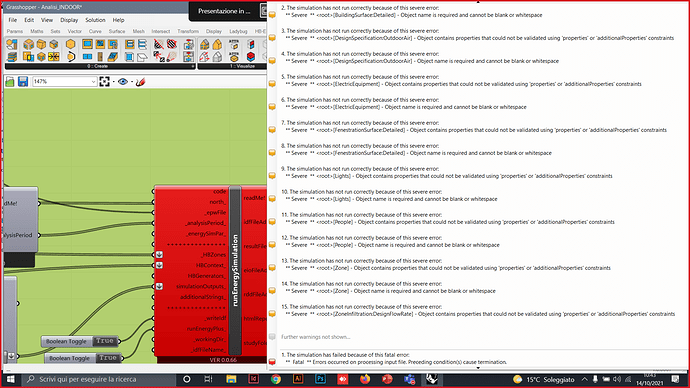 ************* EnergyPlus Terminated–Fatal Error Detected. 1 Warning; 16 Severe Errors; Elapsed Time=00hr 00min 0.48sec
************* EnergyPlus Sizing Error Summary. During Sizing: 0 Warning; 0 Severe Errors.
************* EnergyPlus Warmup Error Summary. During Warmup: 0 Warning; 0 Severe Errors.
************* Fatal error – final processing. Program exited before simulations began. See previous error messages.
************* Warning: Node connection errors not checked - most system input has not been read (see previous warning).
… Last severe error=[ZoneInfiltration:DesignFlowRate] - Object name is required and cannot be blank or whitespace
… Reference severe error count=16
…Summary of Errors that led to program termination:
** Fatal ** Errors occurred on processing input file. Preceding condition(s) cause termination.
** Warning ** Version: in IDF="=9.3.0" not the same as expected="9.3"
** Severe ** [ZoneInfiltration:DesignFlowRate] - Object name is required and cannot be blank or whitespace
** Severe ** [ZoneInfiltration:DesignFlowRate] - Object contains properties that could not be validated using 'properties' or 'additionalProperties' constraints
** Severe ** [Zone] - Object name is required and cannot be blank or whitespace
** Severe ** [Zone] - Object contains properties that could not be validated using 'properties' or 'additionalProperties' constraints
** Severe ** [People] - Object name is required and cannot be blank or whitespace
** Severe ** [People] - Object contains properties that could not be validated using 'properties' or 'additionalProperties' constraints
** Severe ** [Lights] - Object name is required and cannot be blank or whitespace
** Severe ** [Lights] - Object contains properties that could not be validated using 'properties' or 'additionalProperties' constraints
** Severe ** [FenestrationSurface:Detailed] - Object name is required and cannot be blank or whitespace
** Severe ** [FenestrationSurface:Detailed] - Object contains properties that could not be validated using 'properties' or 'additionalProperties' constraints
** Severe ** [ElectricEquipment] - Object name is required and cannot be blank or whitespace
** Severe ** [ElectricEquipment] - Object contains properties that could not be validated using 'properties' or 'additionalProperties' constraints
** Severe ** [DesignSpecification:OutdoorAir] - Object name is required and cannot be blank or whitespace
** Severe ** [DesignSpecification:OutdoorAir] - Object contains properties that could not be validated using 'properties' or 'additionalProperties' constraints
** Severe ** [BuildingSurface:Detailed] - Object name is required and cannot be blank or whitespace
** Severe ** [BuildingSurface:Detailed] - Object contains properties that could not be validated using 'properties' or 'additionalProperties' constraints