Kia ora koutou
I ran into an interesting result of half-reading information during the manual update/installation process today. (My only excuse was I was creating a live video for the class! Trying to instill resilience in what to do during installation). If this is too simplistic for this forum, I am happy to delete.
I ran the Ladybug version widget on my work desktop.


I then confirmed that I had version 1.4 installed by dropping a tool on the desktop.
Then I exited from Grasshopper and Rhino and restarted them.
When I ran a version 1.4 script, it reported an error that it was trying to use v9.5 instead of 9.6 of E+. Panic! Not what I wanted to demonstrate to my student colleagues. It was supposed to be a demonstration of how simple this process is.
Checking the Compatibility matrix (https://github.com/ladybug-tools/lbt-grasshopper/wiki/1.4-Compatibility-Matrix) again, and after a palm-to-forehead moment, I installed v3.3 of OpenStudio.
Exiting from Grasshopper and Rhino and restarting did not fix things! More panic (My only excuse for not being more careful next).
I now rebooted the computer and restarted Rhino and Grasshopper. But, the HB_Config widget still reported that it was using v3.2 of Open Studio.

BIG CLUE staring me in the face. (I confess it took me a long time to realise this and sideline activities included removing the C:\OpenStudio-3.2 folder and - finally - installing UrbanOpt v0.7) The key was last time the software was updated I took the advice of the Github guide to install the software in the C:\users\username\ladybug_tools\ location
However, it has been my habit to install E+ or OS or Radiance in their default C:\ locations as this has created less stress with using the software over the past 2 decades! That is what I did this time. So OSv3.3 was in its C:\ default location but OSv3.2 was in this lady_tools directory. And naturally LBT used the latter.
A simple process of removing the following three directories from the C:\users\username\ladybug_tools\ location fixed the problem (the v1.4 script also ran!)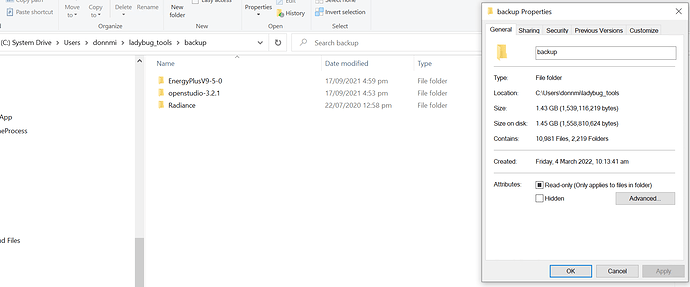 The HB_Config widget was much more reassuring now.

I feel a video edit coming on.