Dear all,
After many years of working with the great LB HB plugins, I am testing extensively HB+ 0.0.05 in order to apply it soon on Revit at work.
I have run few tests on Rhino with DF and Solar Access components and I am amazed how fast and responsive they are!
On the other hand, I am running annual analysis (both solar and daylight); I know the huge amount of output produced but I am worried about calculation times, quite long and resources demanding if compared to LB/HB Legacy. I feel this critical especially in the concept phase when usually many volumetric options are going to be evaluted.
I performed a solar annual analysis on a simple building envelope within an urban context (attached) with the following inputs
2 surface analyzed
1440 test points
1532 obstruction meshes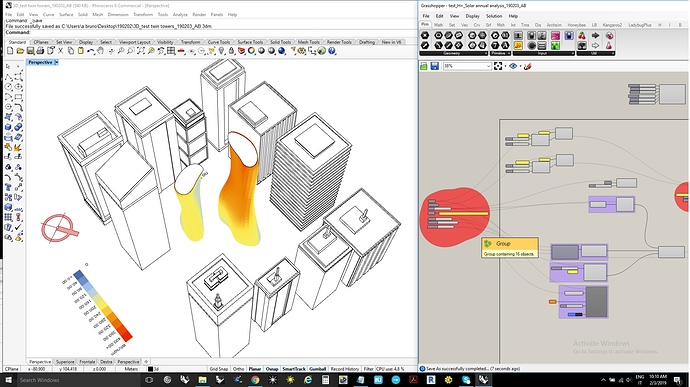 With complexity setting to 0 (low), calculations lasts 12 minutes on my laptop, while the same on LB takes few seconds.
My laptop is
i7-7500U,
16 GB SDRAM DDR4-2133,
NVIDIA® GeForce® 940MX 4 GB
DDR3 SSD M.2 da 256 GB
Rhino 6.1 SR1
I am wondering if it is possible to speed the calculations. Any hints?
Will parallel CPU option (as for the legacy plugins) be available in the near future?
Here you'll find my model and code. 3D_test twin towers_190203_AB.3dm (509.1 KB)
test_H _Solar annual analysis_190203_AB.gh (449.7 KB)
Your help and suggestions will be very appreciated!
Many thanks in advance!
Regards from Italy,
Alberto