Hi all,
I am having to enter F-Factors for floors for a recent ASHRAE 90.1 Appendix-G project, and I'm wondering if anyone has a nice process / workaround for getting those into an LBT model? Am I correct that there is not a standard input LBT component to create / assign those? I could not find one, but maybe I just missed it?
I ended up hacking something together to create, then add the text for the F-Factors to the OSM file directly, then re-running it. I suppose that works ok - but seems less than ideal? I wonder if anyone has found a better / simpler way?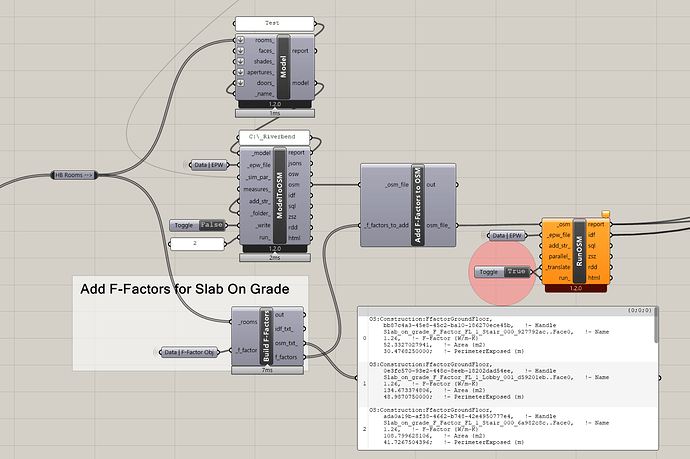 Or have folks found a work-around to avoid having to use F- and C- factors for 90.1 App G compliance? Seems as though that standard is really instant on using those factors instead of U-Values?
Note that I had to add the text to the OSM myself, as when I added it to the IDF in 'ModelToOSM' (add_str_) it didn't make it through into the OSM? The custom text made it into the IDF, but somewhere got dropped by the time it got to the OSM?
Similarly, I couldn't add any custom text to the 'RunOSM' component without getting an error for some reason?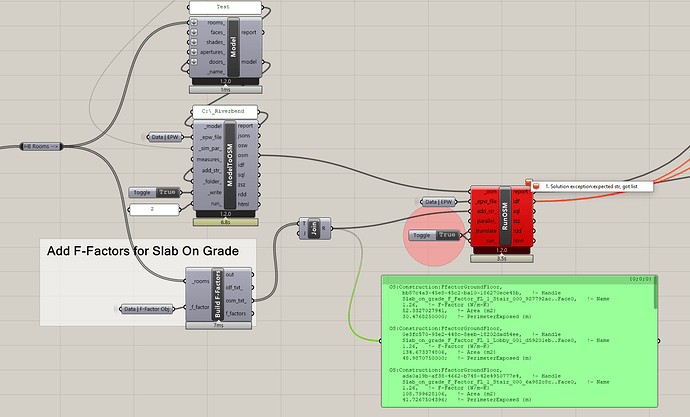 It's ok though, was able to read in, edit, and write out the OSM easy enough.
At any rate, interested to hear any methods anyone has come up with for this F and C Factors.
thanks!
@edpmay