Hi,
I try to simulate vertical blinds with the three phase method. The simulation case is an office room with one big south oriented window. The shading system are interior vertical blinds.
I generated BSDFs for four angles: 0, 45, 90, 135 degrees. The image below presents an overview of the hourly illuminance values for an office room on a clear, sunny day from 8 in the morning till 6 in the afternoon.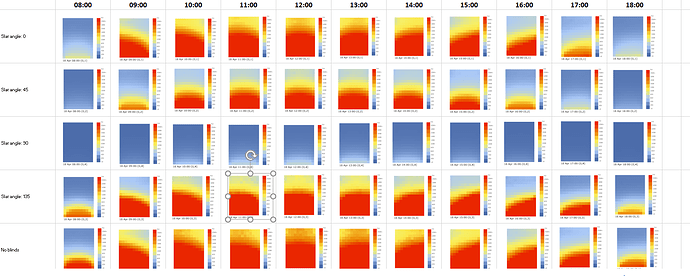 BSDFs:
The image above shows the results, but I would expect other results for the angles 45 and 135.
Because of the strange results for these two angles, I also gathered illuminance values by modelling the blinds for these angles as static geometries. So I runned the model two times to collect hourly illuminance values for each of the two angles. The pattern in these images seems more realistic for me.

My question is: Does anyone recognizes this problem of does could anyone tell me where I go wrong in the three-phase method??
Any advice is very welcome!
Kind regards,
Kim Bodde
Verticalblinds_three_phase.gh (1000.2 KB)
Bsdfs.rar (622.4 KB)