Hello there,
I'd like to report an error in the .ill files written to the disk. This has been happening to me so often that I can't imagine that I am the first reporting this, but I couldn't find a proper thread on this.
The following picture shows clearly what is going on: 4 similar grids of 144 points are fed into an annual illuminance recipe, which returns results for 4 x 144 points. However, if I decide to re-read the .illl files, I get 3 x 144 points and one grid of 145 points. Where did this extra point come from?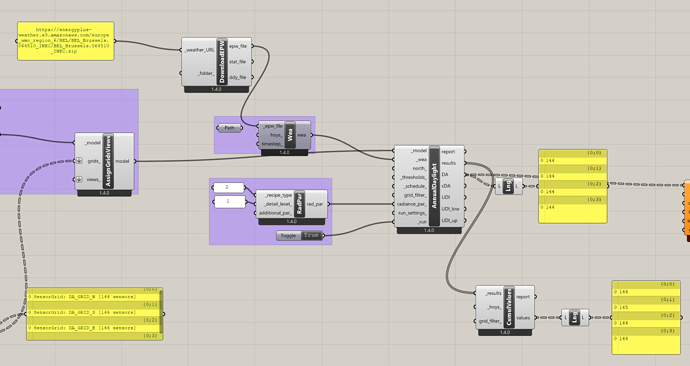 This must be an error writing the results to the disk, since the results right out of the DA component are reporting the right amount of points. If I look at the files created:


One can see that one of those files is bigger than the others, hence the extra point.
This is not an isolated incident, I've been having this error for a while now, so I believe it can be reproduced in a different machine. I'm attaching the gh script so you can test it:
example_result.gh (278.4 KB)
My excuses if this has been discussed in another thread.
Thanks in advance!