I'm trying to understand peak loads by trying to calculate them myself, but the result isn't matching up with what the ReadHVAC component is outputting.
Here is a very simple model:


peak loads.gh
(47.2 KB)
The ReadHVAC component is telling me that the cooling peak is 1.37kW and the heating peak is 1.54kW. First of all, why don't these values match up with the "comp_values" (1.76kW and 2.20kW)? I'm using IdealAirLoads and a simulation time step of 1/h.
I'm running a yearly simulation, so I would expect to be able to replicate the peak loads by finding the maximum values in the "cooling" and "heating" outputs from the RoomEnergyResult component. However, this is not the case, and in fact the values are flipped in that one calculation method tells me the result is cooling dominated while the other is heating dominated: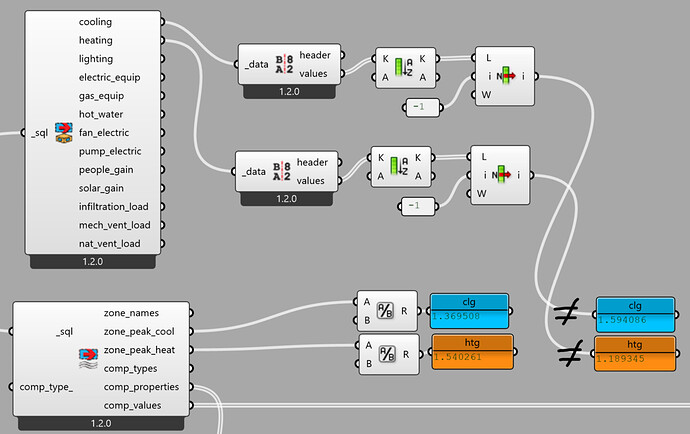 Am I making a mistake in my calculation? I would like to know where this discrepancy comes from.