Late last year, Mili Kyropoulou, Paul Ferrer and I worked on a daylighting study for the proposed extension for San Francisco International airport. With about 300,000 sq ft of floor area, and over 109000 illuminance grid points, the model employed for this study far exceeded the capacity of any conventional daylighting tool or a conventional desktop computer. For example, the matrix operations pertaining to the calculation of Annual Sunlight Exposure required a system RAM of nearly 200GB and involved single files exceeding over 20GB of hard-disk space.
We used a pre-release version of the library now known as Honeybee[+] on local and cloud-based machines for nearly the entirety of our project. A high-level technical overview of this study is documented in a paper presented by Mili at the PLEA Conference in Hong Kong last week (link, direct-download).
Mili and Paul work on the design and research of high performance buildings at HKS Line.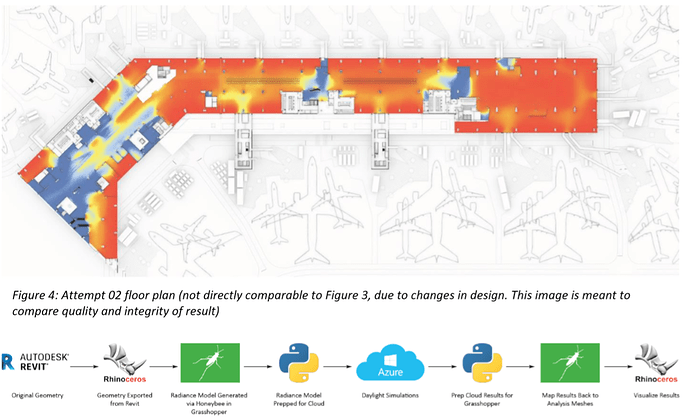 ---
A precursor to current and future functionality: Thanks to the continued efforts of @mostapha, and more recently @AntoineDao, some of the challenges that we faced during our project have been addressed through improvements and enhancements in the source code of Honeybee[+] and the Ladybug Tools API. These include the use of database tools for better management of extremely large data-sets, better cross-platform integration through run-managers and bash support, the on-going development of a dedicated cloud service and the availability of ladybug tools libraries on PyPI. While there are still some hurdles to be cleared for the seamless integration of locally-prepped and remotely-run simulations, I expect that in the near future, projects of this scale will be considered business-as-usual than be discussed as case studies.
(Mostapha had discussed certain aspects of this project last year during his talk at Philadelphia Dynamo Users Group: https://youtu.be/RB9ly1sRxtc?t=4562)