Hi guys,
I want to run a wind analysis at the urban scale ( I saw some of you who tried @devang, @minggangyin, @TheodorosGalanos,). Despite my research on the forum and on github where I found some snippets of informations, I didn't saw enough to significantly help through that journey…
What kind of settings are preferable for the grading part and for snappyhexmesh at that scale ?
Maybe you have a template with basic settings for this kind of analysis that you may want to share ?
As you can see in the definition I started, the refinement region is not align with the case (windtunnel). It doesn't seem optimal. Is that important ? As I want to analyse the wind in few directions, is it better to rotate the case ?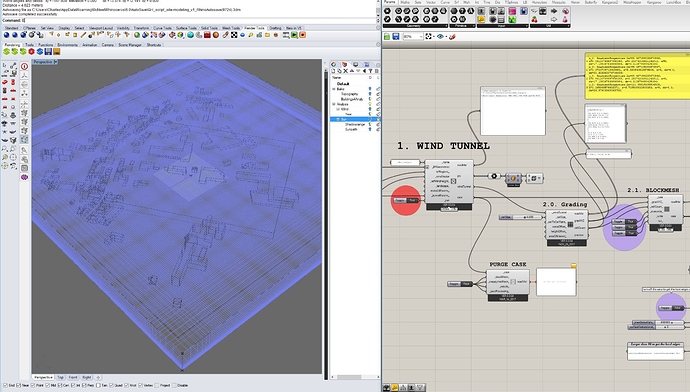 CFD_urban_analysis_v1.gh
(439.5 KB)
related post:
https://discourse.ladybug.tools/t/no-buildings-in-wind-tunnel-after-snappyhex-mesh/2922/33
https://discourse.ladybug.tools/t/simple-urban-wind-results-comparison-butterfly-with-autodesk-cfd/2670/11
https://discourse.ladybug.tools/t/how-to-make-the-airflow-result-using-butterfly-more-smooth/2516/6
Thanks alot !
Charles C.
OpenFOAM v1706 / VM oracle 5.2.8
Last Butterfly version 0.0.04 Nov_26_2017
32GB Ram
6 CPU 4.9Ghz
(should be able to run something !)