Hallo dear @chris, sorry if I bother you,
I need to ask you, a somewhat curious question.
For a project, I need to see if there could be potential glare on the outside context, caused by a glass facade.
I built a script that generates the reflections coming from the position of the sun and everything that falls on the horizontal context is shown in a colored heatmap (yellow surfaces).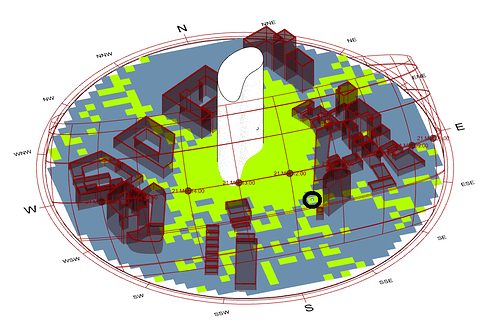 I wanted to go into detail and for individual positions (black marked circle), to see if there is a comparison between the potential glare derived from mirrored reflections and the potential glare seen by PITVIEW for the same time (Month/Day/Hours/Min)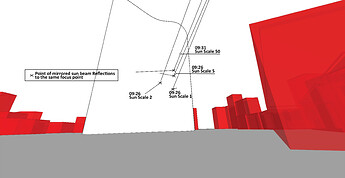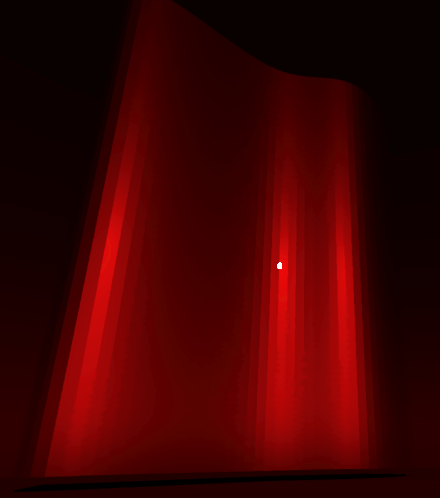 One thing I noticed from this research is, that according to the size of the sun path aka "sun scale", the point of reflection changes considerably, even in the exact same minute (see the left image).
For example the point of reflection with sun scale 1, is far lower than the mirrored sun in the fassade generated by radiance This also leads me to different results. Per example with sun scale 1, a certain sensor receives the reflected sun beam for 40 min in one day, while with sun scale 5, it receives 10 min more.
I would like to ask you 2 things?
Which sun scale is most suitable / realistic for this type of analysis?
Having also noticed that the position of the reflected sun between the geometric reflection and the sun generated from the CIE Sky mirrored on the fassade is not exactly in the same position, is there any inconsistency between the component of the LB Sun Path and the CIE Sky?
Thanks and nest regards