Hi all,
I wonder if someone might be able to explain to me what I'm seeing here or let me know where I am going wrong? If I:
Set it to Ideal Air Loads, don't set anything else.

Simulate it, check out the results, all seems ok.

Now go in and add some operable windows to it, give them a reasonably modest (I think?) operation rate
then my 'cooling' energy result goes all funny. I think it seems to be including the effect of the window ventilation as 'cooling' energy? (Maybe? I Dunno…) If I do two simulations: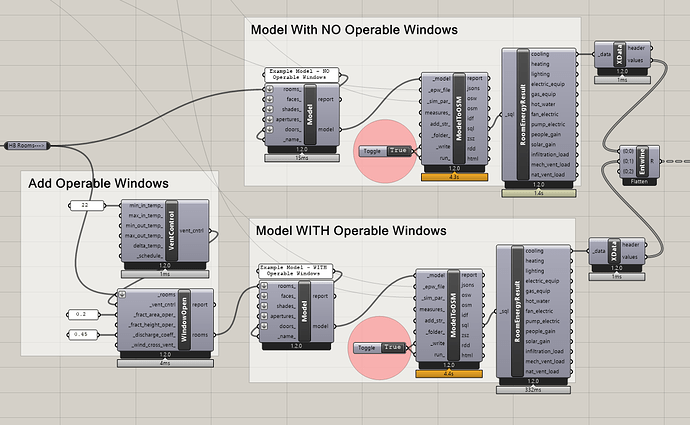 one WITHOUT operable windows, and then one WITH operable windows, I see Total Cooling Energy results that look like: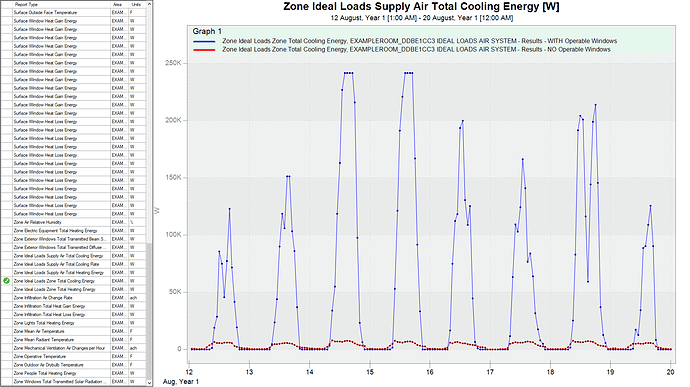 The red is Cooling Energy without operable windows, then the blue is the Cooling Energy once I add in the operable windows?
---
So I suppose my question is: is it possible to disaggregate the window cooling from the 'regular' cooling energy? If I want to know Ideal Air Loads Cooling Demand Energy from a mechanical system, is that possible once I add in the operable windows? Or are they always gonna be all mixed up together? Is there an output variable I can add to see this? Or am I doing something wrong with my operable window setup that is causing this?
If anyone has any ideas where I'm going wrong - I would of course really appreciate it.
Example .GH file attached here if you are interested or have any thoughts.
thanks so much!
@edpmay
Cooling_with_windows_example.gh (87.3 KB)