Hello,
I know that as a general rule, EnergyPlus doesn't like Non-Convex Zones. Unfortunately - I need to analyze heating/cooling loads of a large building with very complex envelope geometry (please, see image below as a rough representation of one of the floors - core + perimeter).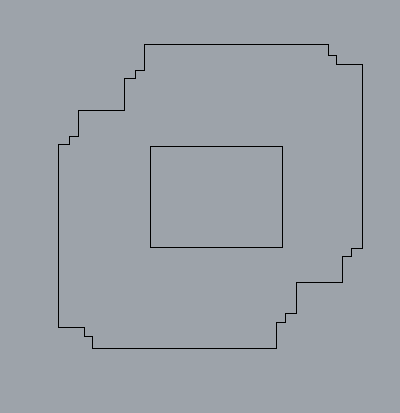 Because the geometry is ready and floors are different on each level, it would take a lot of time to re-draw the model siplyfing it or dividing to numerous non-convex zones. I found this very old topic, where @chris said that using non-convex geometry should not affect the results much if I am not interested in surface temperatures.
I assambled a very simple test model (it is attached to this topic) - it contains 2 rectangular zones, that you can either leave as is (creating two neighboring, convex zones with Air Wall inbetween) or solid union into one - concave L-shaped zone. The change can be modified by marked slider.
TEST_CONVEX_CONCAVE.gh (595.5 KB)
The results of annual cooling/heating loads are fairly different, although most gains seem to be similar:
Please notice i set SolarDistribution to 1 in Simulation Parameters, so the EnergyPlus component does not show any errors. I wonder why the results are different Am I missing something here? Should I avoid using non-convex zones at all costs?
Thank you for your time and help