Hello!
I would be really grateful for help in understanding the results I obtained from the Honeybee Legacy Daylight Factor analysis.
I am checking daylight for a building permit in a large housing project. According to a previous Vertical Sky Component analysis, we have a problematic 1st floor of the building (VSC under 15-20%) where the façade is shaded by the proximity of other buildings.
Test
Radiance Parameters: -ab 7 -ad 2048 -as 512 -ar 256 -aa 0.1 (default values for the rest).
Results: DF values of 0.5, 0.4, and 0.8 in the tested rooms.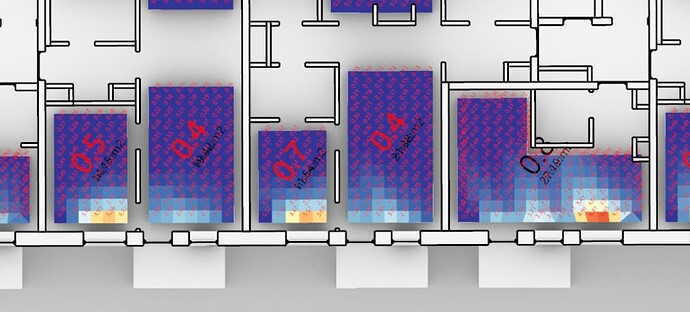 It looks very dark but that is pretty much what I expected.
I have then found a study someone else did (in another project) and made a second try with their parameters:
Test
Radiance Parameters: -ab 8 -ad 2048 -as 1024 -ar 2048 -aa 0.1 -dt 0.05 -dc 1 -dj 0.65 -ds 0.01 -dr 0 -dp 32 -st 0.01 -lw 0.001 -lr 8 -lw 0.001
Results: DF values of 0.9, 0.9, and 1.4 in the chosen rooms.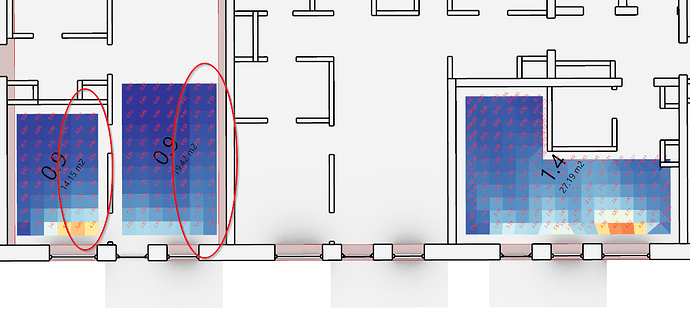 To my surprise, that looks even "too good" - 0.9, 0.9, and 1.4. The light seemed to go really deep into the room (walls reflections?), which may not look realistic given how deep it is and that there is a balcony over the openings.
Of course, it is great for the project if these results are true, but I would like somebody experienced to confirm if these are results I can trust, given that it will be submitted to the city.
Also, that calculation was extremely time-consuming, so perhaps some of these parameters are unnecessarily inflated?
Thank you!
Joanna