Hi,
We are performing some daylight simulations on specific points in a room.
The room is a single facade, North-East oriented (so it's getting sunlight in the morning, and from late-morning or afternoon it isn't getting any direct sunlight at all).
From comparing simulated values with real sensor data that we have gathered from that location in the real room, the simulated values seem to be going higher as the day progresses, which shouldn't be the case.
The Red line which shows real data from a sensor, and is the more logical trend where you have a 'spike' at a certain time when morning light comes in directly into the room via the facade, and later it slowly decreases as the sun progresses West in the sky, away from the facade.
The graph shows real = red, simulated = purple.
The question is, why from 12:00-16:00 there isn't a slow slope down in the purple line…?
Are there any simulation-based parameters or features that might cause this strange behaviour?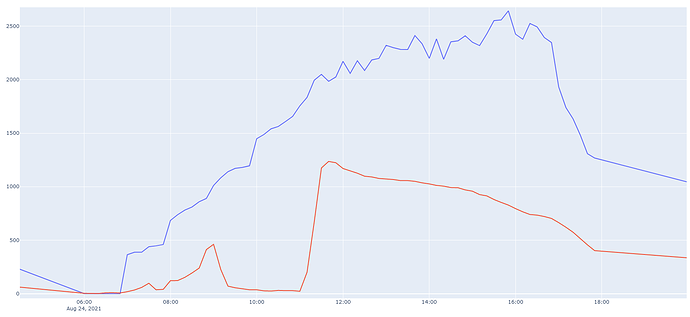 Thanks