Hi all,
I've been playing around with the Heating demand simulation, as I will be testing different proposals for an urban plan for energy-releated properties. My test consist of few single-family houses and two larger buildings. The value that I am looking for is the kWh/m2a for heating, to test which building forms have better performance potential.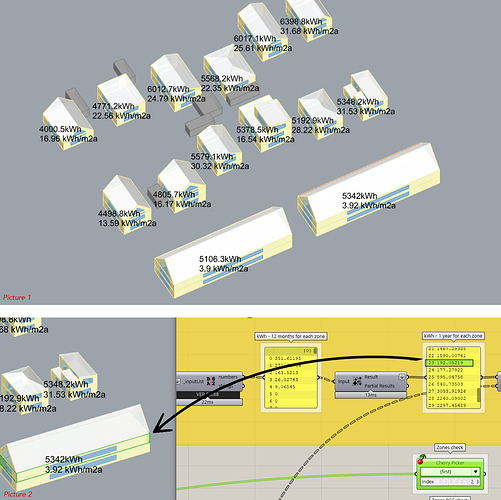 The first value next to a building is the annual heating demand, the second is the heating demand / brutto area. The construction are set to a passive standard, my problem is the two larger buildings. How come their energy demand is just as high as of a typical single-house? That leads then to a crazy low energy demand / area value.
Because this concerns energy modelling in an urban scale, I figured modelling the HBzones quick & dirty- meaning 1 HBzone = 1 floor of a building. Could that be an issue?
In the 2nd picture as I was looking for causes, I found a zone that seem to have suspicously low heating demand - although I am aware of the probable heat transfer from the lower floors But the numbers are quite low for the lower floor too.
Maybe asking the very basic questiontoo helps: The heating values coming from the Energy+ simulation component are purely the kWh's needed to keep the zone warm for the set period, right? It is not automatically converting the value into (E)/m2 or somehow taking into account the area of the HBzones, or?
(I would love to share my GH definition, but the forum says new users can't upload attachments?)

Many thanks,
Martin