Hello everyone,
I am asking for your help in understanding the error that the PMV Comfort Map component generates for me:
Runtime error (PythonException): Recipe was not executed with the following summary:
Scheduled 35 tasks of which:
14 successfully executed:

1 CopyResultInfo(…)
1 CreateDirectSky(…)
1 CreateModelOccSchemi(…)
1 CreateModelTransSchedules(…)
1 CreateResultsInfo(…)
…

1 Failed:

1 SetModifiersFromConstructions(…)

20 remained outstanding, among them:

20 had failed dependencies:

1 CopyGridInfo(…)
1 CopyRedistInfo(…)
1 CreateDynamicOctrees(…)
1 CreateOctree(…)
1 CreateOctreeWithSuns(…)
…
This progress seems

because there were failed tasks
Use the report_out attribute of the recipe settings to see a complete report.
Traceback:
line 191, in script
I will leave you the image: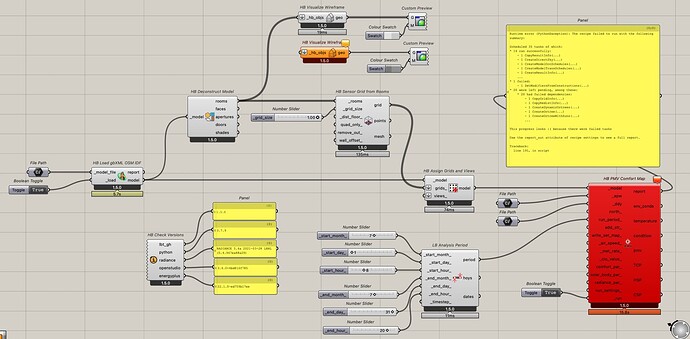 The .idf file was simulated with idf editor and runs smoothly with 0 warning and 0 sever error.
I use Rhino on Mac, can this be the problem?
Thank you, I hope for your help.
Massimiliano