Hi all,
First of all thank you @chris for your two wonderful HB video series. I watched all of it!
Now I encounter something strange and I am wondering if I am doing something wrong of if this might be a bug:
When I was building an energy model of my 300 year old home to find the best improvement possibilities I encountered that the m2 count from the HB End Use Intensity > Gross Floor is wrong. I made a very simplified version of my house to see if this problem persists and its still there. See explanation below the image.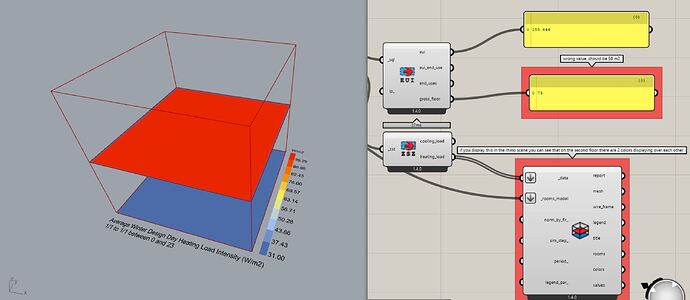 The floor area of the simplified model is 25m2 so for 2 floors it should be 50m2 but the result is 75m2; so 3 floors… Also if you look carefully in the Rhino scene and observe the second floor of the HB Room Colors component visualization you see that there are 2 floors, a red and blue one on top of one another. Strange… I guess what I am wondering if this will impact my energy evaluation?
If you look at the grasshopper file below you see that I build the rooms from faces. I know that this can be done much simpler with volumes but I need those faces because in the complete model of my house almost every wall has other layers and properties so this is why I build it like this. I am guessing that the problem might be in there some where. Any help would be greatly appreciate.
Grasshopper file: test m2.gh (71.7 KB)