I am trying to run a simple analysis to show the impact of SHGC on annual cooling loads. The results were showing that as the SHGC increased, the annual cooling load would increase linearly (as expected) - EXCEPT from 0.25 to 0.30 SHGC. The attached chart illustrates what I am talking about. I tried a lot of things - and kept getting this result. Full disclosure: I am not an Energy Plus wizard.
I have the ventilation air set to 0 and the economizer turned off because I wanted to see total zone cooling loads without any contribution from outdoor air.
I attached a very simplified GH file (sorry I couldn't figure out how to embed the epw file and too big to upload here; I am using the San Francisco International Airport TMY3 epw file.) I'm at a loss for what could be causing this. Any advice is appreciated! Thanks so much in advance.
(FYI - my Rhino units are set to inches and yes I understand that is bad form

)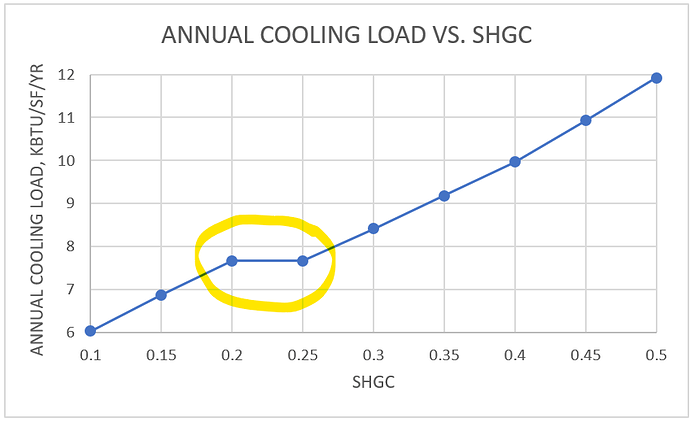 SHGC Analysis Test Example.gh
(582.0 KB)