Hello,
I'm working on a generic shoebox model to better understand how ventilation is taken into account in E+ calculations. One of my main constraint is that I can't use air cooling.
The situation I am facing right now is the following:
I've created a custom ProgramType that has a value of 0.004167 for flow_per_person (the standard I am following here is 15 m3/h/person).
I'm using a custom ConstructionSet that represents the standard construction materials we are usually using in the firm I'm working for.
From this, I've already managed to optimise my opening ratio, the orientation of my openings, shades, etc.
My struggle right now is about the operable windows, and these two components: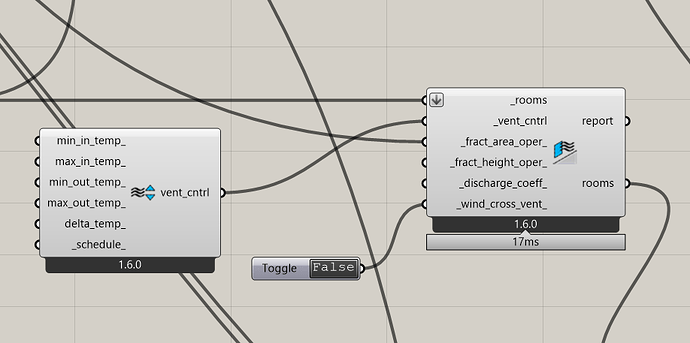 I think I understand their inputs, but when I try using them I get results that I don't understand.
I'm particularly working on confort during hot summer days, and while I optimised my model orientation, openings ratio and shades to have an indoor temperature well below outside temperature (around -5 °C to -10 °C from outside temperature which is 34.4 °C), I find myself with temperature increasing when my windows become operable and that I start playing with these components.
From what I understand, I'm letting the hot outside temperature entering in my model. This is counterintuitive since I experienced the opposite: opening windows and having an air flux is creating a more comfortable situation, and usually permits to lower temperature.
What would be the best way to work on these factors? I think I'm really missing something about the ability to work with ventilation in E+ simulations.
Thank you,