Awesome thank you! the loading errors are no longer there
Fantastic! Thank you Mingbo!
Hello @MingboPeng,
I've just tested the new version your uploaded. It's awesome but I've failed to find the ladybug & Honeybee related function you mentioned, such as Ladybug.SortByLayers, Honeybee.ReadAnnualResultsIII etc. All others Ironbug issues seem perfectly. Could you do me a favour? Thanks.
Hi @YZZhang
Ladybug.SortByLayers and Honeybee.ReadAnnualResultsIII have been moved out of Ironbug, but you can find them in the latest ladybug legacy version.
HI @MingboPeng, will the version of Ironbug from March 29, 2021 work with OpenStudio 3.2? Thank you!

Hi @MingboPeng and community!
Thanks for all the work and support you've been giving to users.
I have a question regarding Ironbug: Is it useful for DOMESTIC HOT WATER calculations? Because in the past Ladybug had a component but with the new version it seems that it has no support on that.
Thanks in advance,
Carles
Hi @Vance07,
Domestic hot water is supported in both the new LBT plugin and Ironbug.
Hi @molly, sorry for the late reply. I don't see any issues with Ironbug working with OpenStudio 3.2.
Hi @MingboPeng,
I am trying to use the Ironbug_20210329.zip file with OS 3.2 but I am still getting all those startup errors that people are complaining about.

I checked my openstudio/csharp folder and it does have all the .dll files that you mentioned in another post: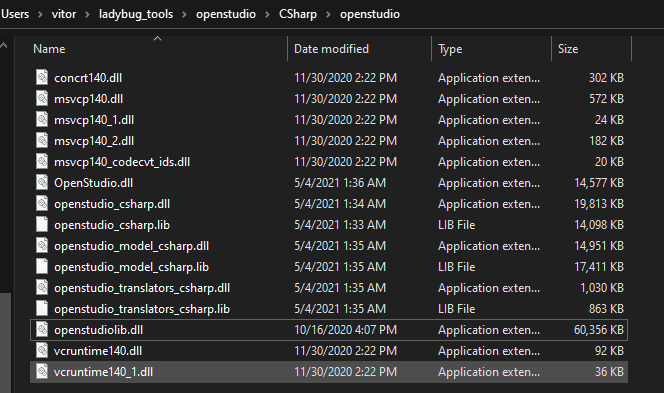 Wonder what can be done to fix this issue

edit: it may be important to mention that I tried updating from an older version of Ironbug, but I deleted the Ironbug folder located at C:\ first as directed
Try this install: Don't forget to un-block zip before install:
This version I was running with OS 3.2.0 with no issues:
link to post with IB downloads
And I think(THINK) the *.dll fix was for the pinvoke error: I'm pretty sure your current issue is the ver of IB doesn't work with OS 3.2
Is there a solution that I can keep Ironbug working if I update to this version?
I don't understand, @fn . Is Ironbug not working when you run the sample file posted earlier in this thread?
I moved you issue over here, @fn , since it seems that it does not have to do with the other post you originally made. Did you follow Trevor's suggestion?
Hi Trevor,
I tried this download link (made sure to un-block), but I still have the same issue. Not sure about the installation steps though. Do I just copy and paste all files from this new folder to C:\Ironbug?
I honestly can't remember: its been a while… buut here's my C:\Ironbug dir: date modified of the files: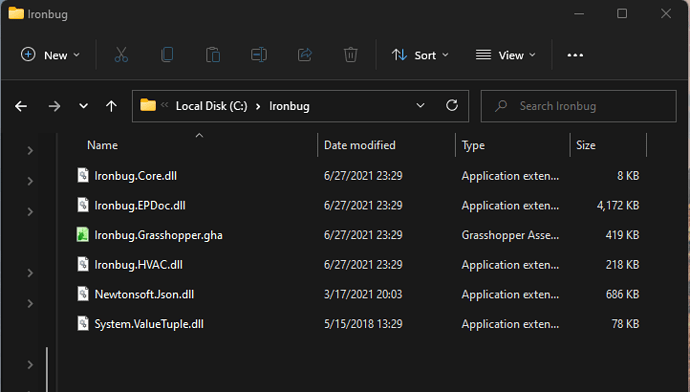 This version I know works with openstudio 3.2; but beyond that: its been a while and I can't remember lol
Yes, Just copy all files into the Ironbug folder. I recommend to delete all contents of it before.
-A.
Hi @MingboPeng, thanks for the answer.
I currently use versions 1.1.0 and in some components version 1.1.1. Right now I am not able to upgrade to a new version due to schedule issues. I do not see any component related to Service Hot Water. Am I missing something? Maybe DHW was added in newer versions?
Thanks again!
Carles
Hi
I see this type of error, in my case the problem was that the ironbug looks for newest version of OS (3.3V) that you have with out checking that is it compactible with or not, i change newest version of OS installation directory so that LBT works and then i install an earlier version of OS that Compactible with ironbug and HoneyBee legacy.(the 2.9v OS)
Hi
i by mistake reply someone else in this topic but the post may help you "Hi
I see this type of error, in my case the problem was that the ironbug looks for newest version of OS (3.3V) that you have with out checking that is it compactible with or not, i change newest version of OS installation directory so that LBT works and then i install an earlier version of OS that Compactible with ironbug and HoneyBee legacy.(the 2.9v OS)