Hi Ladybug Discourse
We are two students from Denmark currently working on our bachelor project.
We have been doing some in our mind "complicated" outdoor microclimate simulations
and have run in to an issue regarding the "HB UTCI Comfort Map" which gives us the following result
(picture 1). There seems to be an error with some of the pixels on the map
as the values don't seem to correlate with the neighboring values.
There appears to be a sort of bleeding or slipstream of different MRT values. We also ran
a simple scenario with just a single building which had no issues. We looked into the geometry
and capped all holes that appeared when creating the "HB Room", however, this did not fix
the problem. We were wondering if anyone had the same problem or would be so kind as
to look into our script and let us know if something was put together in the wrong way.
As a side note we found that the shadows cast by the buildings were considerably longer
using this component compared to the ladybug MRT component. Does anyone have a note on
this or an explanation as to why this happens?
Measuring height is set to the same height for both.
mrt_issues.gh (280.9 KB)
Best regards
Rasmus and Lucas
Advanced case with the "bleed"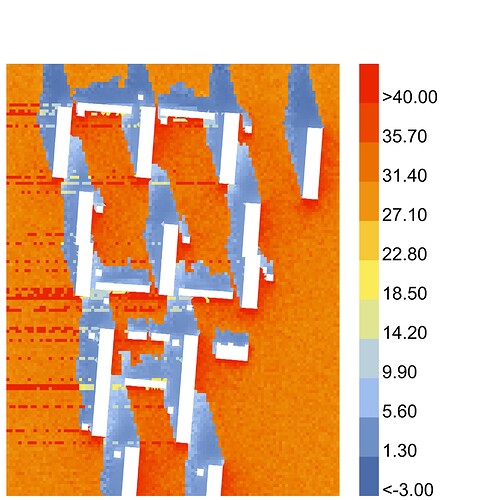 Simple case without the "bleed"