Hello everybody,
I am performing solar analysis with Ladybug, specifically with IncidentRadiation 1.2.0. This module returns irradiation in kWh/m2 for a specific time interval, which is previously defined by means of the component SkyMatrix 1.2.0. The list of _hoys that is passed into SkyMatrix 1.2.0 is constructed with AnalysisPeriod 1.2.0.
My final goal is to create a list of irradiation values for all hours of the year (HOY, from 0 to 8759) or at least days of the year (DOY, from 1 to 365). Nevertheless, given the way that the ladybug components are designed, I until this moment I cannot pass multiple HOY lists at once in the SkyMatrix component. This means that, for now, I need to manually redefine my AnalysisPeriod for each time interval that is of my interest.
This is possible for 12 months of the year, but definitely not possible neither for 365 days nor 8760 hours within the year. In this sense, I would like to ask you if there is a way to "for loop" in grasshopper with the above-mentioned ladybug tools, so that I can automatically extract this long list of hourly or daily irradiation values.
I send a screenshot of a portion of my workbench for illustrative purposes.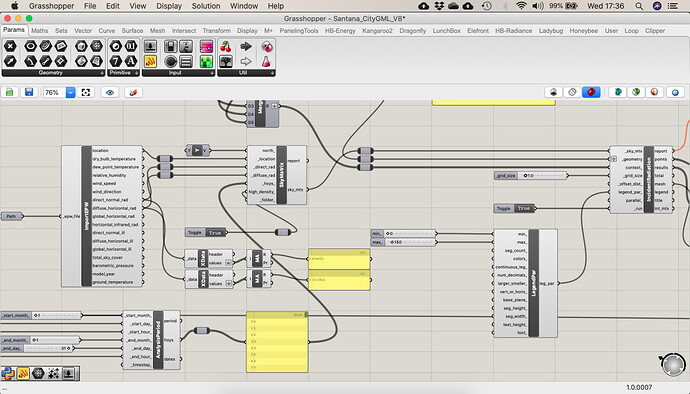 Greetings,
Denis