Hi all,
I wonder if someone can explain the difference between the construction 'u_value' parameter and the 'u_factor' parameter when creating a simple Window Construction ('WindowConstr') in the new LBT 1.0 ?
If I just use a simplified 'WindowMat' with an input '_u_factor' of 2.0 W/m2k, I seem to get a u-value result of 3.188 and a u-factor of 2.07 (I assume that is the effect of surface films being added someplace?) ?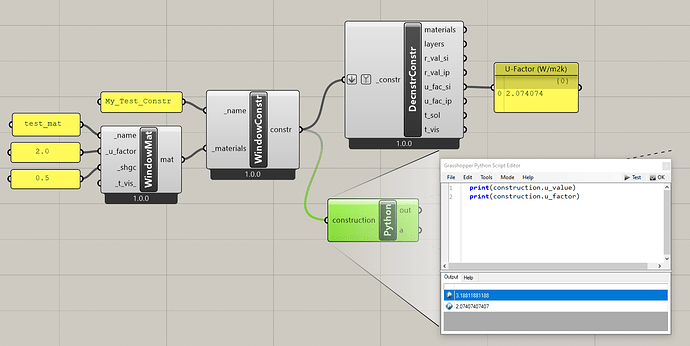 I would not have predicted that and had been using the 'u-value' attribute for a while before I realized they were actually different? Perhaps I don't understand the difference between the two terms though? I always thought they were basically interchangeable terms in North America? Can anyone explain how the 'U-Value' is being calculated in this case and what that value refers to?
any thoughts are always appreciated!
thanks,
@edpmay