Hello,
We're using ladybug's Sunpath 1.6.0 to create a 2 hours cumulated shadow study and after some starting difficulties it works great. We're using a location file for Vienna Schwecht (Airport - approx. 20km away from city center, 48,12° 16,57°).
Geometrical instructions for constructing manually this shadow study point out a 6.3° (21.03 Vienna/Austria → 1. District 48,20° 16,37°) deviation for the 12 o'clock midday shadow. As I understand this "deviation" comes from the difference between midday 12:00 and solar noon which varies according to longitude and latitude and date.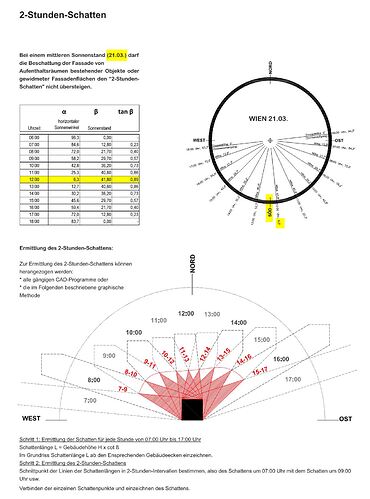 This solar calculation website (https://rechneronline.de/sehwinkel/schattenlaenge.php confirms approximately this deviation → 6.12°.
The option "solar time" slightly changes the oriention of shadows but far from the given 6.3° by the construction instruction.
We would be thankful for any hints to this topic.
Regards Jakob
PS: Sorry for the very dry post but new user may just post 1 image : - (