Hi there,
Would anyone be able to clarify whether the first formula (below) is used when we select natural ventilation type 1 in Honeybee Set EP airflow component ?
Formulas from the code are:
*Ventilation Wind = Wind Coefficient * Opening Area * Schedule * WindSpd *
Ventilation Stack = Stack Discharge Coefficient * Opening Area * Schedule * SQRT(2 * Gravity * Operable Height * (|(Temp Zone - Temp Outdoors)| / Temp Zone))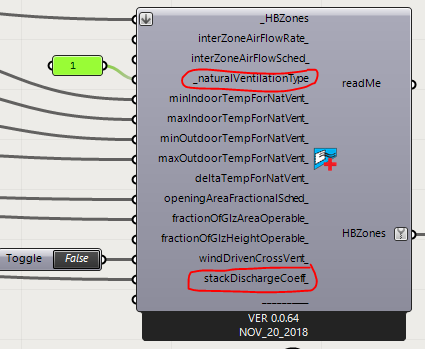 I have single sided ventilation so I selected natural ventilation type 1, however, what I don't understand is the stack discharge coefficient coming into play. If I change the stack discharge coefficient to 0, I get all zeros in the 'wind ventilation standard density volume flow rate' output, meaning there is no ventilation. Which means that the discharge coeffieicent has an impact even if I choose ventilation type 1.
Any idea what is the formula used when we select type 1 ventilation?
Many thanks