Hi @chris, hi @mostapha.
I'm analyzing outdoor thermal comfort with Ladybug Tools 1.1.0. I want to calculate the UTCI and to calculate it I need MRT. I have a courtyard with a transparent ceiling and open in two directions. In the Human to Sky component there is the possibility to insert only the surfaces that block the direct sun and the view. Outdoor Solar MRT does not consider glazing, while Indoor Solar MRT yes. I want to know how window_trans assigns the value to the context.
Another way is with Honeybee infact I can also create a dummy box with AirBoundary conditions for vertical surfaces and calculate the MRT on the ground; for this solution is it possible to calculate the MRT based on a grid?
Or there is a way I'm not considering?
Beyond this I would like to highlight a problem that I don't know if it has already been solved.
Human to Sky component have a problem in north_ inpunt as show the picture. I fixed the error by correcting the python code, I just wanted to report this for the next updates.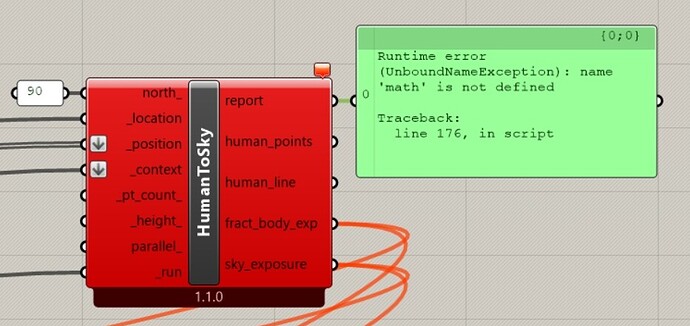 Thank's.