Hello,
I'm doing a grid based illuminance analysis with LB Legacy, HB [+] and Radiance
In my workflow, the geometry is created on Archicad and imported into Rhino as an .obj file
I use several GH Geometry Pipeline components to create HBSurfaces, and a Rhino surface to generate the mesh that creates the test points for the analysis grid.
This workflow works perfectly on Rhino 5, but unfortunately I can't say the same for Rhino 6.
Whenever I set a surface on RH 6 to generate an analysis grid, Rhino and Grasshopper stop responding.
Also, its taking more time to set an epw file on RH 6, than on RH 5.
Oddly enough, I don't have this issue on RH 7…
Unfortunately I cannot post the .gh file.
I'm posting a screenshot of those issues listed above.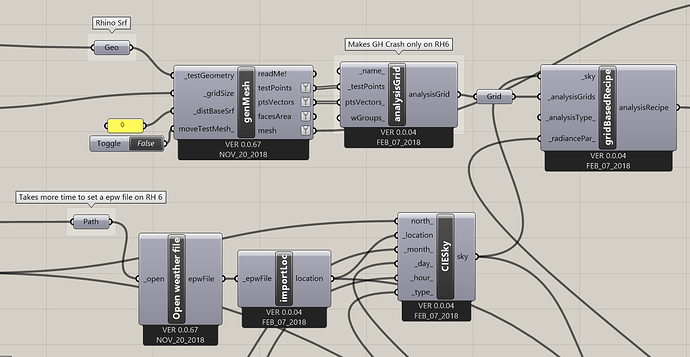 Does anyone had this problem?
Thanks!
Breno