Hi everyone !
I'm doing some studies in order to optimise PV installation on a selected surface. My aim is to represent the difference between three simulation :
The first one considered the surface 100% covered by PV module which have the same tilt and azimuth as the selected surface.
For the second one user can select the percentage of the surface used for PV modules. Here, the tilt and the azimuth are again the same as the surface selected, and the surface of PV Module is generated.
The third one works as the second one, except it used tilt and azimuth optimised.
At the beginning I did not find correct result because the surface generated with the PV System Size tool was bigger than the surface selected. I think I found my mistake, and try to input "systemsize" from the PhotovoltaiqueSurface tool to the System Size tool, and use the Surface generated to input it on the second PhotovoltaiqueSurface tool in order to calculate the AC energy per year. At this Moment I found some consistent results because the surface generated considered the percentage, and the power of the third simulation was bigger than the second one.
Now begin problems. I decided to do some Cluster to clear the grasshopper model and for the next guy who will used this Programm. I wished to checked a second time when it was finished, and for several examples, my results were not in compliance. Indeed, the second simuation gave me hicher results than the third one. And the azimuth optimised, written on the TOF Schema, did not match to the value the third simulation used (c.f pictures)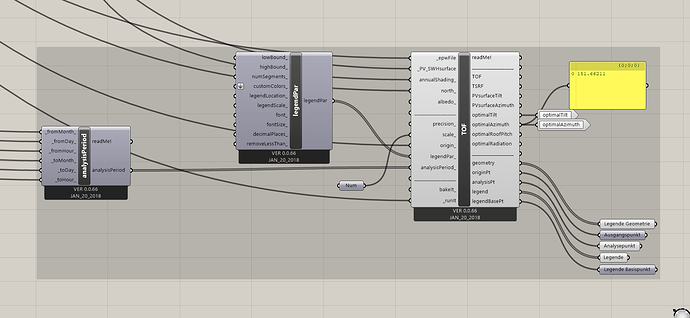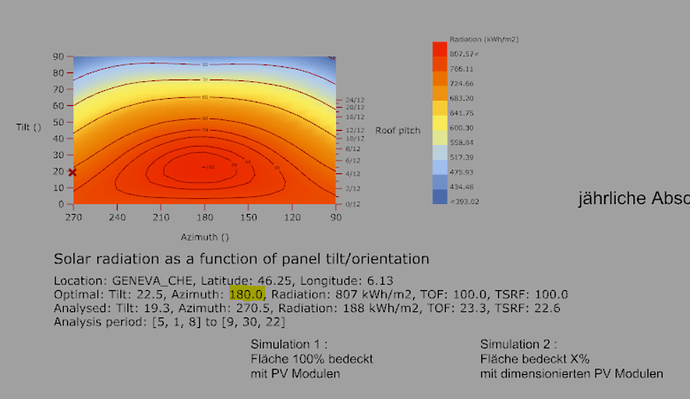 Everyone had already this kind of problem ? Cluster break correct link between Tools ? It sounds strange but it is the only solution I found. I hope someone can gives me a clue to resolve this problem. I know it is more complicated for you dear users to help me without the file, but the company doesn't want this file on the Internet for confidentiality reasons.
Any suggestion are welcomed, thank you very much !

Ben