Hello Chris,
Just to give you an update on this; I planarised the geometry and the problem has disappeared. I imagine it was due to the presence of curved surfaces.
Thanks again for your help on this!
May I ask you few other questions on this topic? Please let me know if this should be moved to another discussion.
I have a list of items on which it would be great to have your feedback:
If I input the analysis period in Microclimate Map Analysis component as in the picture below, am I sure that I am including in the assessment only the hours between 8 am and 8 pm for that week or I am considering all the hours from 8 am the 26th of April to 8 pm the 2nd of May? Basically, I want to make sure to consider only the occupied hours. I am quite sure I am only considering the occupied hours but I would prefer to confirm.

This procedure is great to evaluate comfort over a week as it takes time to run the analysis for the whole mesh. Is there a way we can set control points (similar to what we can do with radiation or illuminance) and plot for those control points the PMV or SET for every hour of the year?

How is the SET defined? What is its equation? I assume the SET accounts for direct radiation falling directly on the user considering the SolarCal model?

I would like to compare different configurations (e.g. using different glass coatings, etc.) and show the improvements for example showing that the hours with SET < 28 degC are less of a certain % compared to a previous design option. Do you have any suggestions on how to achieve that?

Is there a recommended upper and minimum threshold for the SET or this should be simply agreed according to the specific needs?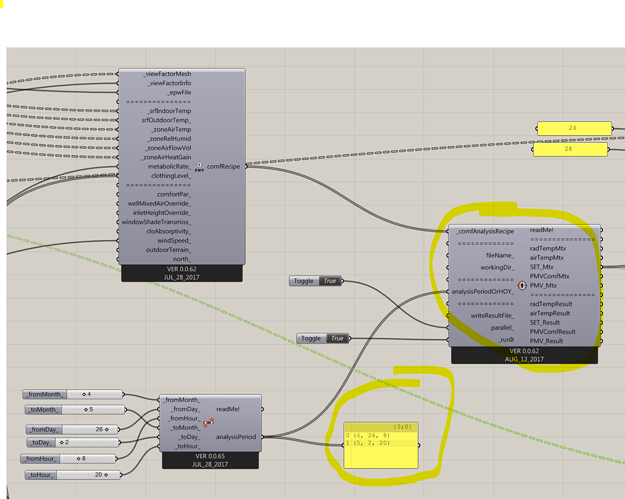 Thanks a lot!
Best,
Carmelo