Hi All,
I wonder if someone might have a recommendation for the proper method of modeling 'split' ductless heat pump units with IronBug? In particular, I am looking at a multi-family building with the following scenario: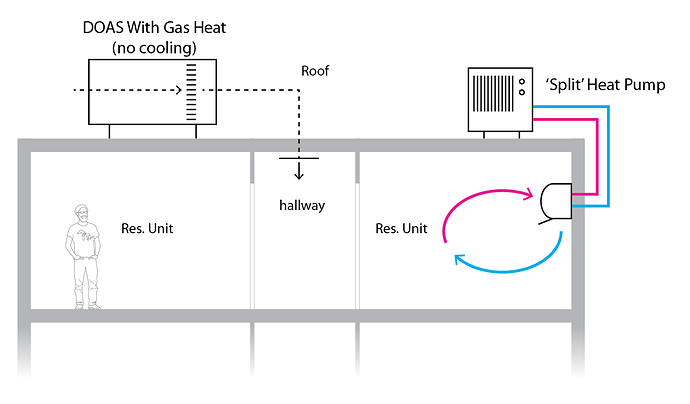 Fresh air is delivered to the hallways, with gas heat (no cooling).
Heating and Cooling are provided in the residential units with ductless split heat pump systems. This Daikin model in particular: Daikin FXAQ
So I wonder what the recommended modeling strategy for this would be? I wonder if this would fit well with the IronBug 'Sys16_VRF + DOAS' template? Or would this be more in line with the 'Sys4_SZHP' template? I think maybe I don't quite understand what systems fall within the 'VRF' category?
It seems to me that it's more a 'Sys16' since the ductless units do not have any outdoor air themselves and instead rely on the DOAS for all the fresh-air supply to the zone? But I wonder if that seems right? If anyone knows of any good resources to learn about the differences / boundaries / definitions of those HVAC Systems I'd very much appreciate it.
My thought was to split up the 'Sys16' template and apply only the VRF to the resi-zones, then only the DOAS to the hallway zones. So something like: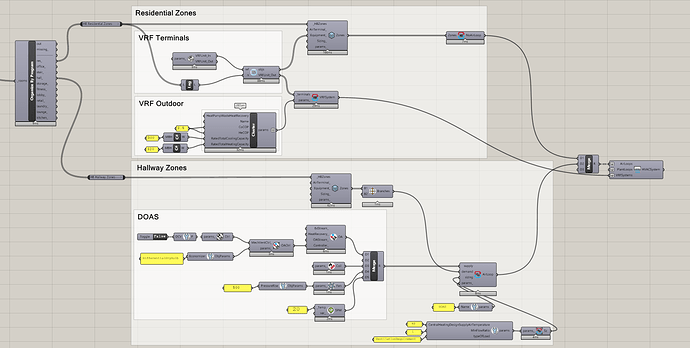 But I wonder if that seems right? Any thoughts on the appropriate way to approach the above system would be much appreciated!
thanks so much
@edpmay
(btw: IronBug is just incredible - really can't say that enough!)