Hi everyone!
@chris I have downloaded Dragonfly Ver 0.0.02 from your github repositary https://github.com/chriswmackey/Dragonfly/archive/master.zip) and copied all ghuser files from Dragonfly-master\newPlugin\userObjects, to the GH user object folder
I'm trying to analyze the UHI behavior in LCZ1 using a GH parametric block model created for in the range of LCZ1 geometric and surface covers for my final year thesis
I'm almost done with my city model and first tried testing with the provided Urban_Weather_Generator_Workflow.gh located in the Dragonfly-master\resources, folder. All the other components seem to be working but RunUWG component does not give any output when the toggle is set to true. I tried everything possible but no response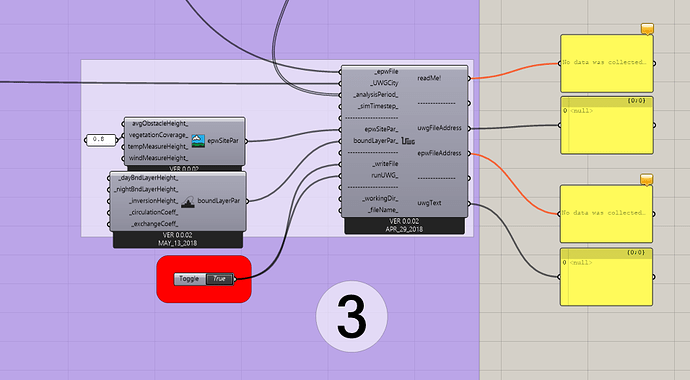 However the old workflow file found in http://hydrashare.github.io/hydra/viewer?owner=chriswmackey&fork=hydra_2&id=Urban_Weather_Generator_Workflow&slide=0&scale=1&offset=0,0 is running ok with the dragonfly Ver 0.0.01 but it's having some issues with building typologies and importing the city Breps to processing, that's the reason I'm trying with the Dragonfly ver 0.0.02
Does anyone have an idea of what's causing the problem?
System information is as follows,
UWGEngine.exe is in C:\ladybug\UWG (UWG4.1 renamed as UWGEngine.exe) downloaded from https://github.com/saeranv/UWG_Matlab/archive/master.zip
Installed the Matlab compiler 9.0 (64-bit) and UWG works in manual mode
CCWorldWeatherGen is installed to the C:\CCWorldWeatherGen folder and HadCM3data folder is in there.
Python 2.7.15 is installed on the system
IronPython2.7.8 is installed on the system
Running on windows 10