Hello helpful communities!
I need to confirm is my work correct or not.
I want to simulate a hypothetical room which have 2 scenario.
First, the wall consist of several layers, such as Plywood, Alumunium Foil, and PCM. PCM is in the middle of the wall, where alumunium covered it all before plywood covered and become the outer side of the wall
Second, the wall only consist of two layer plywood, where there are no materials between the plywoods.
Here I attached the visualisation of the hypothetical rooms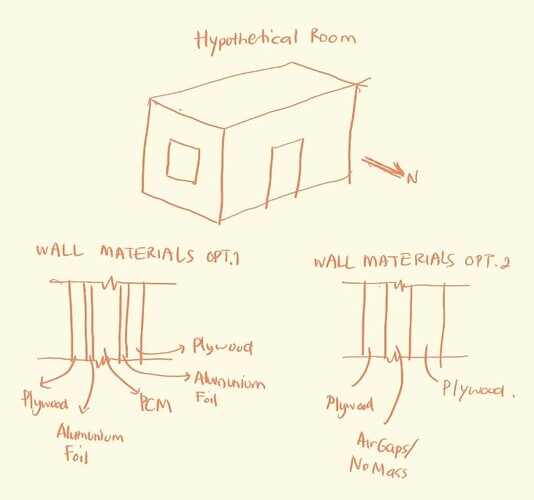 And please take a look to my script
Surface Temperature_With PCM.gh (252.0 KB)
Surface Temperature_Without PCM.gh (241.1 KB)
I already read a forum discussed PCM in their wall, however, it was 7 years ago and they use Legacy and "additional strings". I haven't deep dive into it and decided to change the conductivity, density and specific heat to represent the PCM materials. I don't know is it enough?
I already conducted the simulation, however, the simulation results is not similar with measurement result, where surface temperature of the wall with PCM is smaller than the wall without PCM. I guess there is something wrong, but I still haven't figure it out yet.
To conclude, my questions are
(1) Is it true to apply PCM in our walls, we have to settings the additional strings?
(2) Is there something wrong with my script? Currently I am not using any additional strings settings for applying PCM
Thank you in advance!