Hi all,
I have a simple, but no simple, question. For example I have two objects: 1 TV of 60 Watts and an air conditioner of 400 Watts. Well, now i know that a room or a collection of them can have only one program list, so if i want to add the two objects in the electric equipment input I should merge Watts and then the HB ProgramType component multiplies value for the fractional schedule wich has numbers between 0 and 1. But at this point I should have to merge even the two equipments fractional schedules and divide them by 2, for example:

Well, when both equipments are turn off the value is 0, while if both are on the value is 1 and is all okay. When only one of them is on the value is 0.5 and so it makes the average of the electric consumption (230 Watts), while if I have only tv on the consumption should be just 60 Watts or 400 if the air conditioner is on.
An other way that I tried is to attach more HB equipment components, with their own fractional schedule, to the electric equipment input. But I don't think it's correct (or maybe yes, I don't know) because I have two program type in the same component such as in this picture: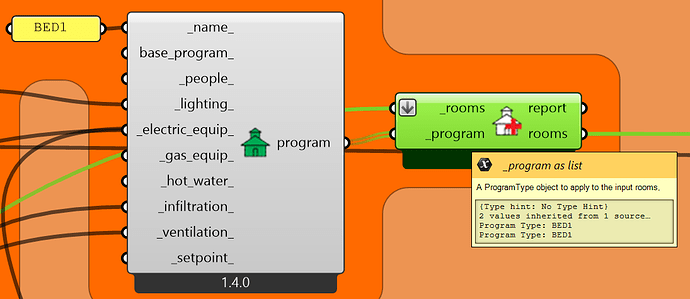 In your opinion, is there a way to divide these values correctly?