Hello everyone,
I've come across something in LBT v1.2 that perhaps has a simple explanation but I cannot seem to figure it out. For context, we're looking at upgrading an existing school, so are testing various options as upgrades to the "baseline" model that we've calibrated.
I have run 3 simulations with only the following being changed:
Baseline: U6.5, SHGC6.5
Test 1: U4.5, SHGC0.6
Test 2: U3.5, SHGC0.55
Test 3: U2.5, SHGC0.5
I would expect that with each case, the window losses to decrease, the solar gains to decrease and the heating demand to decrease also.
Test 1 and test 3 demonstrate these expected results, however test 2 doesn't seem to follow this pattern at all. I put together a quick chart, showing the load balance results for these areas of interest: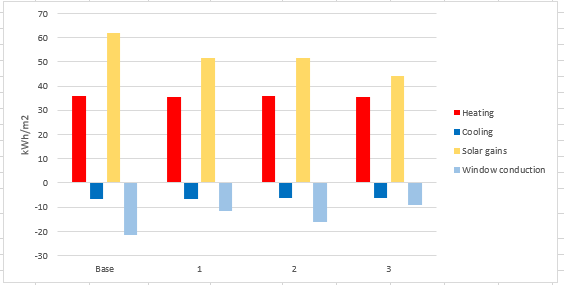 I should also note that I'm using the simple window material component with the u-factor, shgc and t_vis inputs. I'm not sure if this would have anything to do with it.
I also tried testing the changes in U-Value and SHGC separately, and the SHGC has a linear effect on cooling and heating, whereas the U-value does not.
I am completely lost so any input would be wonderful!!
Thank you in advance