Hello!
Two questions related to using downloaded files in LBT v1.1:
Will the 'Open EPW' component that existed in Legacy be added to v1.1? I understand that you can still bring in an EPW file by connecting a file path to the 'Import EPW' component, but 'Open EPW' made this process more streamlined.

I have some FMY files that were downloaded from WeatherShift that have worked in Legacy but gives me an error when I connect them in the same way in v1.1. Error is: "1.Solution exception:invalid literal for int() with base 10;". See screenshots below. I've also included a link to a WeatherShift file that has worked in Legacy as an example. Any ideas of how to troubleshoot this?
Below: WeatherShift file path going into Legacy 'Import EPW' component: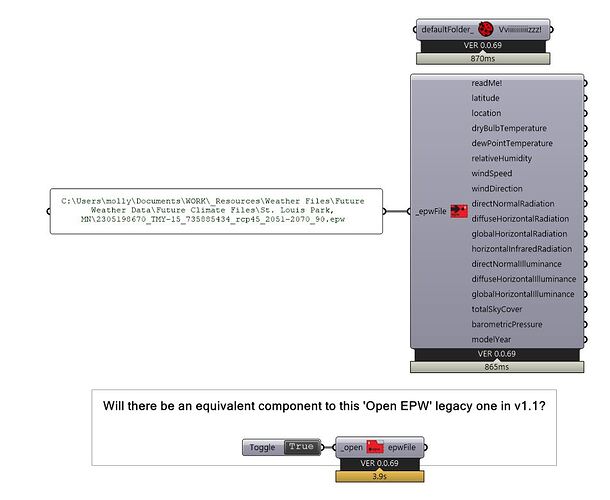 Below: Same WeatherShift file path going into v1.1 'Import EPW' component. A DOE weather file path works fine: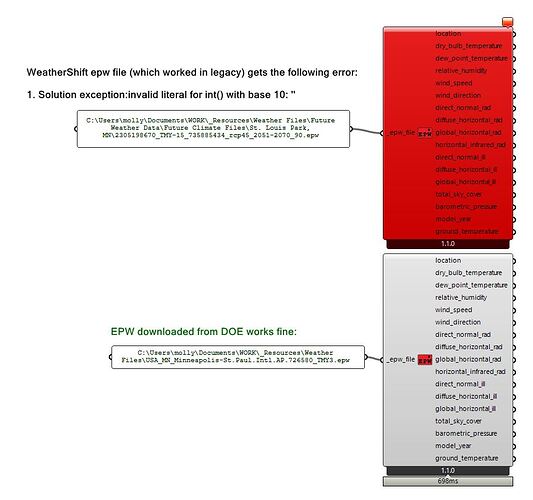 This is a Dropbox link to the WeatherShift file example:
Thank you!
Molly