Hi @chris and everyone.
Now I am trying to run the UTCI map component, but I have realized something when running it. When I choose the Grid size to be 15 in the component "HB Sensor Grid from rooms " the UTCImap runs, however if I make it smaller for example 1 the components fails as you can see in the picture below.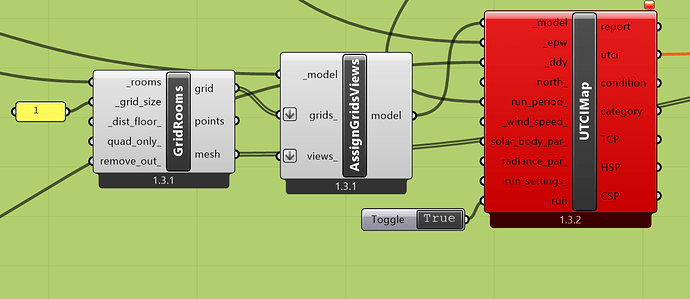 My question would be where does this error come from, is it because of my geometry or something else?
I will attach here the grasshopper file.
simulation 1.3.1.gh (341.9 KB)
Kempten_Durach-hour_aktuellEPW.ddy (732 Bytes)
Unfortunately I cannot upload the .epw file as it says it is too big, so I am putting the link on the drive:
https://drive.google.com/file/d/1RSjH-OOKMORkC3iTBrJ4l77XY0_oKs4h/view?usp=sharing
Thank you so much in advance.