Kia ora koutou
I have in the last couple of days dealt a significant Rhino 7 frustration. This is the visibility of my LBT 1.3 graphics in the Rhino screens. When I first did this on my home development machine there seemed to be issues with what I would interpret from my AutoCAD days as a front and back cutting plane within which the graphs sometimes were visible. Switching view mode from wireframe to render and back again mostly solved this. I had no idea what to search for in a visibility or camera setting n Rhino.
On our student machines, the issue was even more frustrating. Nothing was visible.
What we have just discovered is that if we use one of the room or face attribute displays, that I have now added to the student modelling script to ensure a certain level of Quality Assurance, then switching these via a gate command fed through a custom preview, then the base model is made visible and the Rhino view settings are altered so all our graphs are visible!
I offer this first as a work around for this visibility issue, and then as a query to @mostapha and @chris in case this triggers some kind of inspiration as to what viewport settings might need to be set in Rhino 7 so they match Rhino 6.
The visibility controls: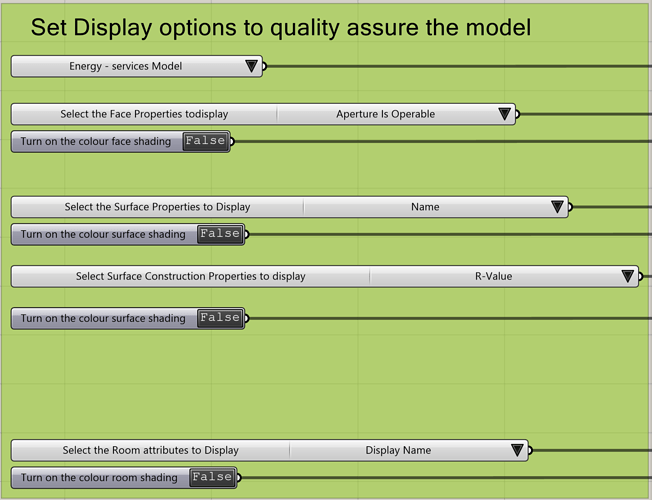 The operational end of the visualisation: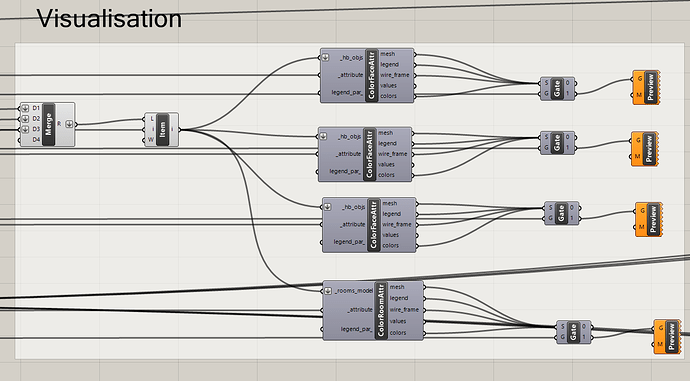 M