Hi All,
I am happy to let you know that you can model the water-cooled VRF system now with Ironbug.
Water-cooled VRF system
The new water-cooled VRF system has become more common in larger office buildings, high-rise towers. Especially in the cold climate, this system doesn't have to worry about defrost issue, and works well with existing water systems. This system comes with the higher COP up to 6 than traditional air-cooled system's 3.5, and double heat recovery possibility.
Manufacturers like Mitsubishi, have released this type of products in recent years. (https://www.mitsubishielectric.com.au/assets/LEG/CITY-MULTI-Watercooled-Brochure-May-2016.pdf)
In OpenStudio 2.9, this water-cooled VRF has been added, but there was a bug that crashes OpenStudio App when visualizing the condenser loop with the water cooled VRF in its demand branch. In OpenStudio 3.0, this issue has been fixed, and now I am enabling this in Ironbug.
I personally have encountered this system a several months ago in a project in Chicago, but wasn't able to really model it. but now we should be able to do so.
Here is an example file:
(Note 1: you need to update the Ironbug 0.0.16 )
(Note 2: you need to adjust the performance curves based on a real product if you have one)
Ironbug_VRF_WaterCooled.gh (592.6 KB)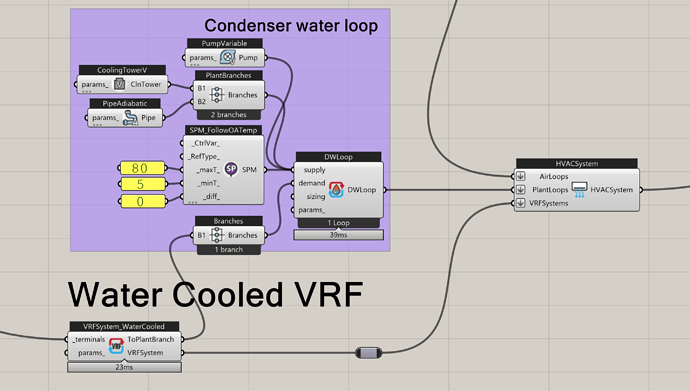 Hope this will be helpful, and please let me know if you have any comments.
Enjoy,
Mingbo