Hello everybody!
I am testing extensively the example files 00_point_in_time_gridbased.dyn (20.2 KB)
honeybee_test_room.rvt (1.4 MB)
attached to LB/HB+ packages for Dynamo.
I run some tests having installed Radiance 5.1.0 and everything went smoothly.
Then I noticed on the sample codes this message:
"This definition is using Honeybee and to run daylight analysis with Honeybee you need to install Radiance. Radiance can be downloaded and installed from this link:
https://github.com/NREL/Radiance/releases/tag/5.2.0 "
So I removed Radiance 5.1.0, then I installed Radiance 5.2.0 in C:\Radiance folder.
…And I get this error message on Dynamo: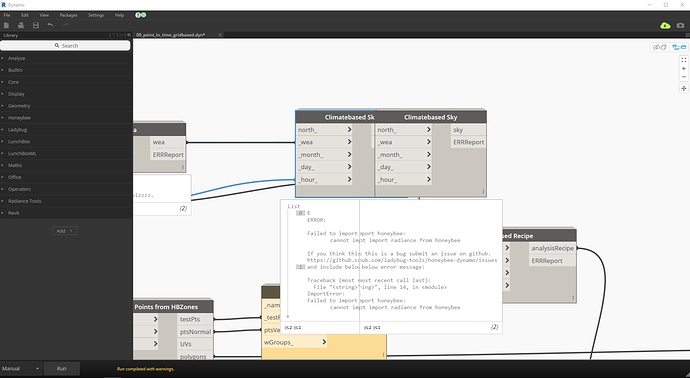 Since Radiance 5.2.0 is a pre-release, I decide to install Radiance 5.2 which is the official (and latest) release, hoping to fix this. Again I get the same error message. What's wrong?
Thanks in advance,
Alberto
My setup is
Revit 2019
Dynamo Core 1.3.3.4111
Dynamo Revit 1.3.3.4111
Ladybug 0.1.7
Honeybee 0.2.0
Radiance 5.2
Rhino 6.1
Honeybee[+] 0.05
PS.Neverthless on Grasshopper daylighting analysis on Honeybee+ runs smoothly

.