Hello all,
I am having trouble with a big model I need to run calculations for. Even before I start running the calculations, I seem to run into RAM issues(I have 64gb). Rhino crashes when connecting geometry to HB Face or Shade.
Right now I have a big outter shell as a trimmed surface and the "problem geometry" ceiling lamellas as surface and open polysurfaces.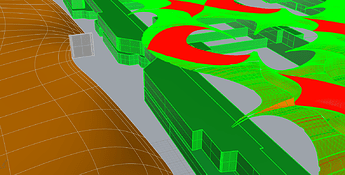 So my questions is, should I mesh everything in Rhino, before connecting it to nodes in Grasshopper? What type of geometry input will require less calculation and transformation inside Grasshopper so I can reduce the load of my PC?
Thank you,
Hristo