Hello,
I am trying to simulate a building as an aggregation of shoeboxes to increase the resolution of the analysis for cooling, heating, and lighting demand. In doing so I have encountered some strange results on flat walls that should be providing uniform energy demands.
One case study I am working on is basically a box oriented on the North axis with a curved alcove cut out of it. For some reason I keep getting spikes on certain parts of the flat facades. The climate for this case study is in Canada, Calgary.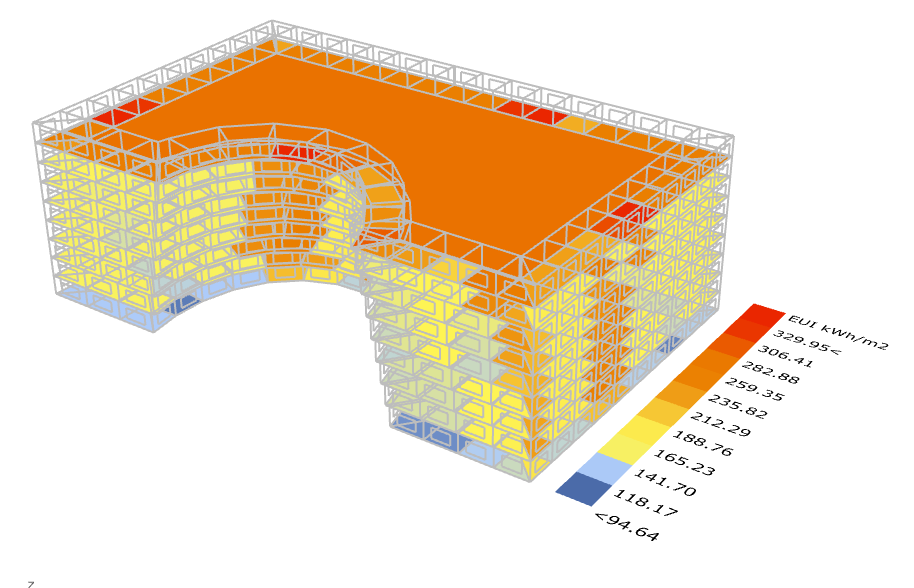 Here you can see on the East side (closest to the legend) for the total EUI a row of much higher demand than the rest of that façade. There is also a couple of shoeboxes that show a dip in demand in blue right next to the row of high demand.
I have compared this to a radiation analysis with Ladybug to check if this was being caused by the difference in solar exposure.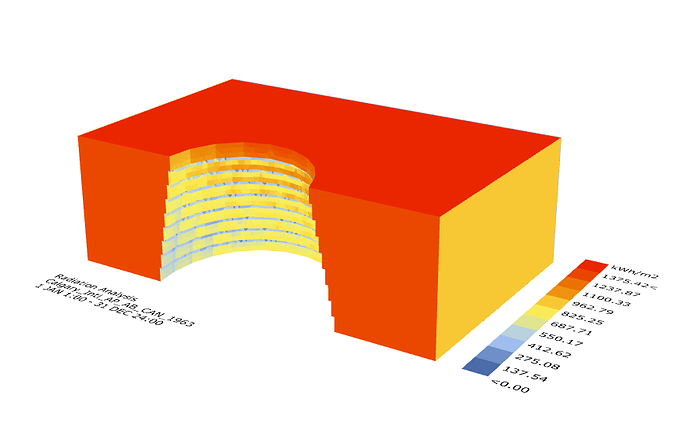 But, from that analysis, I found that the East facing façade had uniform radiation results along the whole façade.
I have tested this setup with various interior wall strategies (Airwall, adjacent, and Adiabatic) and all have yielded consistent results with a row of higher demand.
Has anyone else experienced similar spikes in energy demand results when simulating large facades?
Or is my expectation that a flat façade oriented towards a cardinal direction should produce uniform results across the façade a wrong assumption?
Would very much appreciate people's opinion on this.
Thanks.