Hi all,
I have a question regarding the right inputs for ASHRAE 90.1 Appendix G modeling related to air infiltration? Appendix G Table G3.1 Modeling Requirements for Calculating Proposed and Baseline Building Performance, section 5(b) specifies an input of 0.4 cfm/ft2 (0.0203 m3-s/m2) @ 75Pa (0.3 in-water):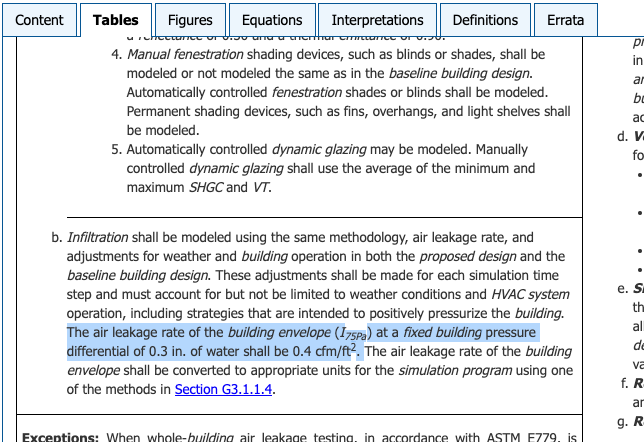 so I'm wonder how to enter that correctly in the Honeybee ApplyLoads component? That component is looking for input values at 4Pa, right? So is it ok to just use linear interpolation to convert 0.4cfm/ft2 @75 down to @4 ? So something like: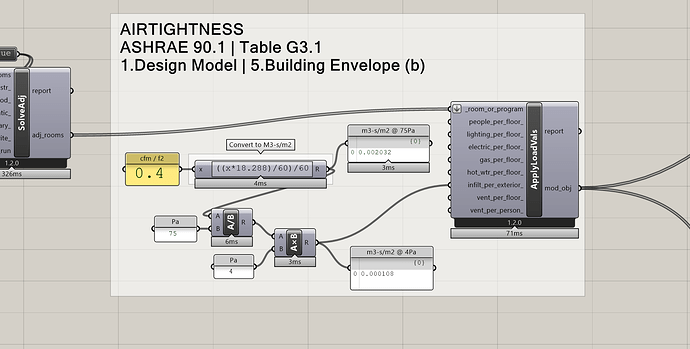 Does that seem correct, given the input units that this component is looking for? I get a value of 0.00018 m3-s/m2 envelope area.
Appreciate any thoughts of input if that seems right, or if there is another approach that folks know of to do this correctly?
thanks!
@edpmay