Hi
I'm very interested if anybody have any advice on how to format the LBNL WINDOW .idf output (from a complex fenestration system) so that it can be assigned to a surface in Honeybee through Grasshopper. The idf. output from LBNL is the EnergyPlus object Construction:ComplexFenestrationState.
Trying to load the .idf file into Grasshopper the file format is different than the one from Honeybee components: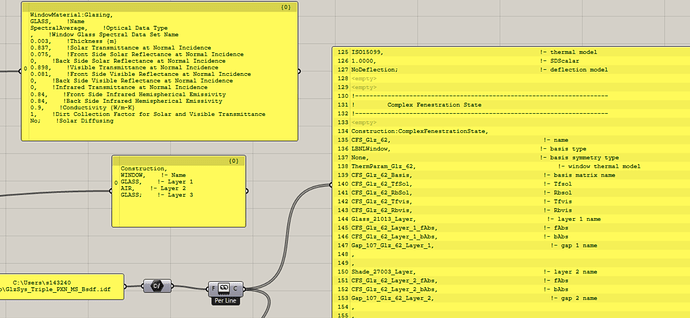 Also the additionalStrings_ input doesn't overwrite previous definition, so I recon it can't be assigned there.
One workaround is to get Honeybee to initially create an .idf and then manually copy paste the fenestration object and change the appropiate names/references. However it would very nice if there is a faster way, since I need to do different iterations.
So to summaries the problem in a nutshell - I would like to be able to assign the attached .idf Construction to a surface in Honeybee.
GlzSys_Triple_PXN_MS_Bsdf.idf (1013.5 KB)