Hi!
I am currently doing some study comparing 2 different glass materials;
Laminated glass (U = 3.90 W/sqmK, VLT = 0.65, SC = 0.61)
Double glazed unit (U = 1.57 W/sqmK, VLT = 0.57, SC = 0.37)
The radiation is evaluated behind the glass and I am getting similar results for both types of glass. I am hoping that someone can help me figure out if the result is correct or I have set it up wrongly.
Thank you in advance. Attachments are the screenshot of the material setting, results, and GH file used.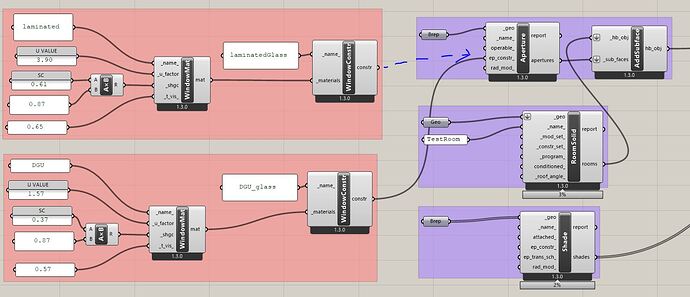 comparison.gh (99.0 KB)
Additional glass information
Solar Energy Transmittance = 44%
Solar Energy Transmittance = 28%
Cheers,