Hi Everyone,
For my MSc thesis, I'm interested in looking at the effect of MRT due to longwave radiation only. I'm considering two different methods for getting the longwave MRT only. For both methods, I'm considering the model below. In this particular situation I'm looking at the longwave MRT at 04.00 at night (so no sun, and thus no shortwave irradiance). At 04.00, the surfaces have the following temperatures: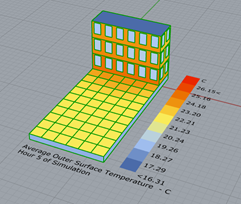 Method 1: Using the Ladybug_MRT calculator to calculate longwave MRT
For this method I'm using the Ladybug_MRT calculator as used in this example for the calculation of the longwave MRT only. Upon calculation I get the following result for 04.00 at night: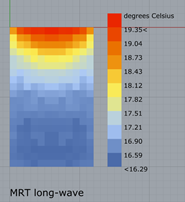 Method 2: Using the Microclimate map to calculate longwave MRT
For the second method, I've used the Microclimate map method to obtain the MRT values. Since I'm looking at a night-time situation, there's no shortwave irradiance. Therefore, the MRT as obtained from the microclimate map is the longwave MRT: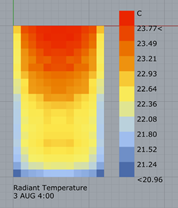 Now my question is: What causes the difference between these two results? And which result is correct? To me, the result above seems more sensible, as it compares better to the distribution of surface temperatures.
Now, my second question is:
In case the Microclimate Map gives a more accurate representation of the MRT. Is there a way to separate the longwave radiation from the shortwave radiation in the output? From the component I can only get the radTempMtx, which gives the sum of the shortwave and longwave MRT. I've had a look at the code inside the component, however, since I'm not very experienced with Python I do not know how to separate these two and change the output. Any help on this would be greatly appreciated!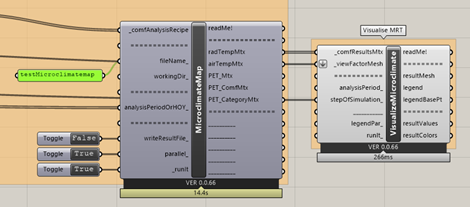 Thanks in advance for having a look at my questions!