Hello,
I followed the installation instructions for installing the Ladybug tools in this repo, I checked the compatibility matrix, and since I have LBT version 1.3.0, I have Python 3.79, Radiance 5.4a, Openstudio 3.2.0, and URBANoptCLI 0.6.2. For URBANoptCLI 0.6.2 I executed the setup-env.bat file in admin mode.
However, when I try to run the sample file from_building_solids.gh, I get a runtime error WindowsError.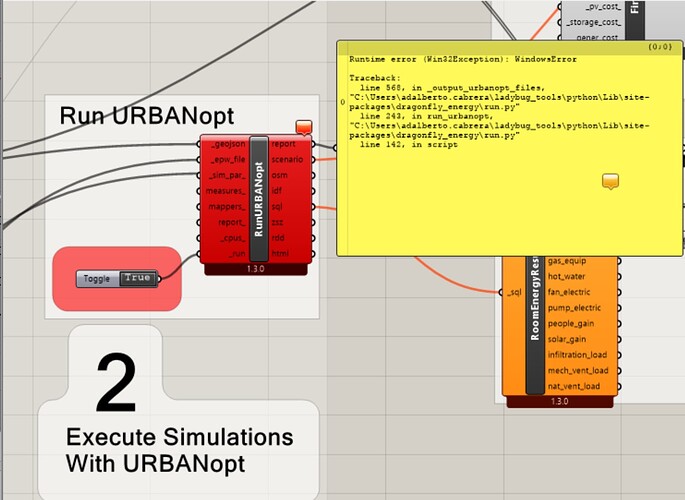 I have seen a discussion in this entry showing the same error. I tried to install OpenDSS in the python version located in the ladybug_tools\python folder but I get a FileNotFoundError: [Errno 2] No such file or directory: 'requirements.txt'. Then I installed the OpenDSS library in a brand new Python 3.79` installation, but the WindowsError is still there.
The only thing I have different to the compatibility matrix is the Rhino version, I am using Version 6.35.
Is there anybody that has gone through a similar error? Do I need to install Rhino 7 for this tool to work?
Any help would be very appreciated, thank you in advance.
Adal